Discover more from The Journal 425
411 for the 425 | Reader-supported local journalism with perspective, edge & authenticity. | Your home for Lake Stevens Vikings football. | Privacy: J425 will never share or sell your data.
Over 2,000 subscribers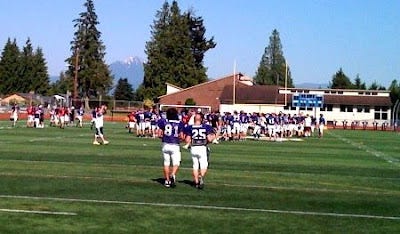 Just spoke with Coach Tom Tri over the phone...sounds like Saturday's scrimmage was a little rough. I was out of town, but Coach Tri said he'd have me over to take a look at the film later this week. Tri said Chameron Lackey looked good at QB, but that the Vikes had some major problems executing basic tasks - which is to be expected at this stage.
Combine Starts Tomorrow
The Viking Spring Football Combine begins tomorrow and lasts through Thursday. The Viking players will be put through the paces and their measurables will be recorded. Drills include 40 yard dash times, short shuttle drills, weight lifting, vertical jump and other football related speed, strength and agility tasks.
Coach Tri has agreed to let Purple and Gold Pigskin publish selected results (we will be highlighting the players who post the best numbers in each department and overall). If memory serves correct, Bo Dickinson had the best overall score at last year's combine, followed closely by Nick Baker. Duke Dolphin scored extremely well as a sophomore, and will probably post some eye-opening numbers. It will also be interesting to see the 40 times of several of the Vikes' track stars, including Tyler Reside and Brennan Frost.
I will be away from the action tomorrow, but will take video and report live from the combine on Wednesday and Thursday. If anyone has info or pics from the scrimmage that they'd like to share, please hit me up at kevin.hulten@gmail.com.