Discover more from The Journal 425
411 for the 425 | Reader-supported local journalism with perspective, edge & authenticity. | Your home for Lake Stevens Vikings football. | Privacy: J425 will never share or sell your data.
Over 2,000 subscribers
Monday Notes: QB competition over? Viking video debuts, Vikes pose for pictures, the fastest lineman in the West, Belcher emerges on D and more...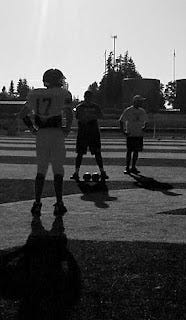 Is the quarterback picture black and white? According to Coach Tri, junior Bryson Daggett (17) has emerged as the likely starter after a strong camp.

Rob and I spent four hours at LSHS today as Coach Tom Tri and his staff put the Vikes through a padded double-day of practice. Rob was on hand to get photo art for our pull-out Viking preview in the September 2nd edition of the Lake Stevens Journal. I also had the Flip Cam on hand, and will post practice video highlights.
Before the first session got started, I had a chance to talk with the coach and he had a few interesting things to say.
First, I asked him about the quarterback situation, specifically asking if there was an open competition for the starting QB job. Tri said that the spot had been open for the taking at the beginning of camp, but that oneplayer had taken a prohibitive lead. Without saying as much, Tri indicated that this player is junior Bryson Daggett. Tri said he would likely declare a starting QB in the coming days.

I then asked him to elaborate on a few other players, here are my notes in indirect quote format:

On WR Chameron Lackey: Tri said Lackey was slated to be the QB, but in Spring Ball, it seemed like he had no one to throw to. Some of our recievers were struggling, and we lost TE/WR Aaron Britton (to illness), so we needed someone to step up at receiver. Really, I just noticed that every day after practice, Lackey wasn't throwing - he was catching Bryson Daggett. Every day after practice he would run routes for Daggett, and Lackey was phenominal. He has the best hands on our team, bar none. (Tri then described a one-handed grab of a deep fade route that Lackey snared). Tri said that image stuck with him, and the team decided to move Lackey to the inside receiver position. Tri said the offense will look for creative ways to use Lackey (option passes?) and that Lackey is not completely out of the QB picture (I assume he was referring to a hypothetical injury situation).

On QB Bryson Daggett: Daggett has done everything the staff has asked of him, plus he's established a repoire with several receivers. The staff appreciates his toughness and his game experience. Tri said that Daggett has a working knowledge of the offense, but that he will likely scale things back (as coordinator) at the beginning of the year in order to ease Daggett's transition. Tri compares Daggett to former Viking QB Paxton Paynter, who is now on scholarship at Rocky Mountain College.

On LB/OG Alex Moon: Tri said Moon has really been a leader on and off the field - hence his status as a captain. Moon ran an amazing 4.59 40 at the Viking combine, obliterating the lineman record and beating the old all time Viking record (Tyler Reside ran a 4.58 to beat Moon by 1/100th). Tri said Moon will play ILB and guard. When asked if the fast 40 time made Tri consider moving Moon to an offensive skill position, he said no - but he did indicate that they would be using Moon to "pull" on running plays quite a bit.

On OLB/SS Brandon Belcher: As we discussed which juniors should be photograhped for our season preview, Tri was adamant that Belcher be added to our suggested group of Duke Dolphin, Brandon Preslar and Daggett. Tri said that Belcher is quite possibly the Vikes' best defender.

On RB/CB/K Brennan Frost: Tri also sung Frost's praises, asking if we'd taken a close look at Frost. After we remarked that Frost was good last year, Tri laughed and asked us to wait until we see him this year. Tri pointed out that Frost's speed (4.60 40) was a huge asset and that his work ethic and ball skills were very strong as well.

At this point, practice began so we didn't have time to cover anyone else. However, Tri did confirm that Kalena and Sage Richardson left the team after moving to a Utah high school.

On defense: I had a minute with Defensive Coordinator Joe Cronin prior to practice and I asked him about some confusion I was having with the defensive alignment. When I wrote out the defensive depth chart the other day, I just couldn't get the positions to line up correctly. Is Duke Dolphin a safety or a linebacker? Same question for Belcher and Lackey. What about Preslar - CB or safety?
Cronin said the Vikes have shifted to a 3-5-3 defensive alignment (although Tri repeatedly referred to it as a 3-3-5). Long story short, the Vikes have a three man d-line, three "inside" backers (Moon, Jason Mendel and Chase Crowley) and a few hybrid linebacker/safety types. Belcher and Dolphin man the wings and the flat, Lackey is the last line of defense, and Preslar joins Reside and Frost as a corner.
Tri later said that the Vikes goal was to have as adaptable of a formation as possible emphasizing team speed - partly due to the influx of spread offenses the Vikings will face (Glacier Peak, Arlington, Stanwood, Jackson and Oak Harbor are all running versions of the spread) and partly because the Vikings - while blessed with team speed - are not particularily blessed with team beef. Or, as Tri put it, "You gotta go to war with the guys you got."

Stars of the day: QB Bryson Daggett has taken the reigns in the quarterback competition, and his steady play continued today. He showed excellent arm-strength and was accurate in team drills... Meanwhile, Sophomore Jake Nelson struggled early in 7-on-7, at one point throwing and interception followed by three incompletions, but picked it up a little later on... Running backs Brennan Frost and Duke Dolphin are in great shape and should give defensive coordinators who try to key on the Viking pass game nightmares. Both showed good hands out of the backfield while flashing some of their trademark speed and agility... Junior RB J.T. Cox is quite a specimen, listed at 6'2 230. He is quick on his feet, and I'd expect him to get plenty of chances as well... WR Chameron Lackey lived up to Tri's pre-practice plaudits, snaring pass after pass in 7-on-7 drills, while WR Tyler Reside had one of the big plays of the day, taking a screen in the flat from Daggett (in 11-on-11 drills) and breaking across the grain of the defense for a 40+ yard gain that left Tri jumping for joy.

Notes: Not a lot of defense to talk about, as most of the full team work that I saw focused on the installation of offense. Photographer Rob Carlson was on hand today and took literally thousands of shots for use in the Journal preview and here on the blog. For the Journal preseason pull-out and schedule (in your mailbox Sept. 2), we featured seniors Alex Moon, Chase Crowley, Chameron Lackey, Jesse Porter, Jordan Eckstrom, Arvid Isaksen and Brennan Frost along with juniors Duke Dolphin, Brandon Preslar, Brandon Belcher and Bryson Daggett...I was able to collect all the Viking combine data, and should have that typed up and posted for your enjoyment sometime tomorrow...until then, it's worth noting that Alex Moon, Jesse Porter and Duke Dolphin had the best combine totals (combining their results in each portion). For sheer strength, no one topped the 6'2, 240-pound Porter, who squatted 525 pounds and completed 21 reps at 185 pounds on the bench press.