Discover more from The Journal 425
411 for the 425 | Reader-supported local journalism with perspective, edge & authenticity. | Your home for Lake Stevens Vikings football. | Privacy: J425 will never share or sell your data.
Over 2,000 subscribers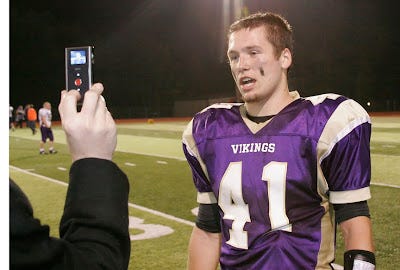 WR/LB Trevor Riecks played a phenominal all around game last Friday, but the Vikes will ask even more of Riecks this Friday, as he will likely play several different positions on defense to make up for lost starters. Rob Carlson/Sportsmedianorthwest
Headed over to film study this afternoon and was surprised to find Coach Tom Tri in a bit of a down mood...the reason: a significant number of starters are academically ineligible for Friday's game at Snohomish.
We've decided not to delve into the who's and why's of the situation, but we will report on the players that will be making position changes or who will be expected to make a step up on the depth chart for Friday's HUGE game at Snohomish.
We'll have more on the new contributors when we take our first look at Snohomish.
Moving on...we've updated our Wesco North standings and our Viking statistical leaders on the right column of the blog. Now's as good of a time as any to take a quick glance through some interesting Viking stats. Let's start with some team numbers:
- The Vikes have rally taken advantage of teams through the air, out-gaining opponents 2,209 to 1,053. Lake has a completion percentage of 69%, while holding opponents to a paltry 46%. The Vikings have thrown 24 touchdowns, while opponents have thrown for only 10.
- One would expect the Vikings to suffer a huge disparity in the ground game, but that is not the case. The Vikings have rushed for 1,020 yards, slightly less than the 1,117 they've surrendered. However, Lake has been more efficient, averaging a respectable 4.5 yards per carry while giving up only 3.9 ypc to opponents. Lake has rushed for 11 TD's and given up 13.
Sacks, turnovers and penalties are three topics that seem to come up when folks talk about Viking weaknesses. Let's take a look at the numbers:
- Penalties have been a huge problem, as the Vikings have been penalized more than twice as much as their opponents. Lake has been flagged 57 times for -552 yards, an average of seven penalties for -69 yards per game. Opponents have been flagged just 29 times total, and average less than -30 yards in penalty per contest.
- The Viking defense is adepts at creating turnovers, which has saved the offense's hide on several occasions. For the season, the Vikings have a plus-3 turnover margin, having created 22 turnovers (11 fumble recoveries, 10 interceptions, 1 blocked punt) while surrendering the ball 19 times (12 fumbles, 7 interceptions).
- The Viking defense has also put pressure on opposing quarterbacks to the tune of 24 sacks, or an average of three per game. The Viking offense has surrendered 19 sacks.
If you want to peruse the individual numbers, head over to the stats section on the right column, but before you do, let's just examine the amazing parallel between the season stats of receivers Colton Tupen and Trevor Riecks:
- Both Tupen and Riecks have 49 receptions - six better than the previous record of 43. Both Tupen and Riecks are averaging 12.9 yards per catch. Riecks has nine touchdown receptions (one short of the season record) and Tupen has six.
Stats can often be manipulated to fit any theme, but that said, it's often interesting to take a deeper look. Thanks again to Mike Anderton for compiling the official stats.
We're still working on Rob Carlson's photo diary, and we'll pass on some links and a closer look at the playoff picture as well. Tomorrow, we'll take a first look at the Snohomish Panthers, and we'll debut our Week Nine Wesco Power Rankings.
All for now.