Discover more from The Journal 425
411 for the 425 | Reader-supported local journalism with perspective, edge & authenticity. | Your home for Lake Stevens Vikings football. | Privacy: J425 will never share or sell your data.
Over 2,000 subscribers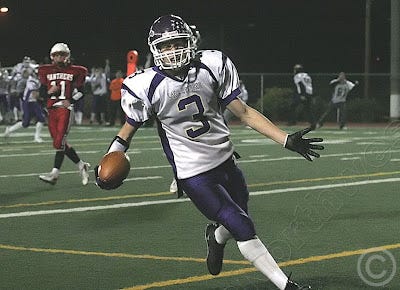 WR Colton Tupen mugs for Rob after snaring a 31-yard TD pass with 44 seconds remaining at Snohomish, bringing the Vikings within an extra point of tying the Panthers. Tupen went off Friday, hauling in 10 passes for a record-tying 194 yards and two TD's. Rob Carlson/Sportsmedianorthwest

Playoff week is upon us, and the Vikings will meet on campus tonight to watch Rogers game film...we'll be there as well.

As part of our Playoff coverage, we are proud to announce that Tacoma News Tribune prep reporter Doug Pacey will join us here at Purple and Gold Pigskin to help us get a better idea about the Rogers Rams. Doug is the force behind the TNT Prep blog, which is an excellent resource and has long been part of our Recommended Reading. Thanks to Doug for helping us out!

Earlier today, we posted Mike Anderton's game story from last Friday.

A quick bit of Lake Stevens Journal-related info...the Journal is on early deadline this week and will not cover the Rogers game, so be sure to keep it locked here for Mike Anderton's game story and any potential info on a second playoff game.

Taking a look around the Intrawebs, here's a few links to keep you busy until we get the Photo Diary up and running:

- Doug Pacey has the Week 10 Rankings up at TNT.

- Tom Wyrich does the same over at the Times HS blog, and also offers a full listing of the 4A first round matchups.

- Mike Cane wonders if any of the upcoming playoff matchups can match the intensity and excitement he witnessed Friday in Snohomish.

- Matt Robertson has the video from Jackson's thrashing of Kamiak.

That's all for now, catch you later.