Discover more from The Journal 425
411 for the 425 | Reader-supported local journalism with perspective, edge & authenticity. | Your home for Lake Stevens Vikings football. | Privacy: J425 will never share or sell your data.
Over 2,000 subscribers
Mariner Week Tuesday Notes: Journal Preview out tomorrow, Dolphin likely out, New faces in first group...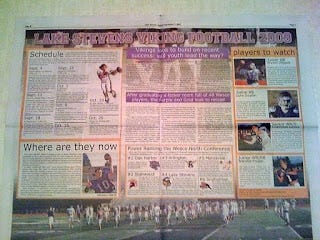 We're well into week one and the Vikings are prepping hard for Mariner in advance of Friday's season and home opener. Coverage will pick up here and we'll resume our in-season schedule:
Wed: Know your opponent; Thu: Wesco picks; Fri: Viking game pick/preview; Sat/Sun: Game story and stats; Monday: Photo gallery; Tuesday: Wesco Power Rankings.
The Journal Preview is out in newsstands now and will be in 20,000 area mailboxes tomorrow. Yes, we know Brandon Preslar is not a RB. Typo, our bad.
Practice Notes
I spent a couple hours on campus yesterday and watched Coach Tri and Coach Cronin install their respective game plans. I took some film, but decided not to run it just in case any Mariner spies are reading our stuff...that said, here's a couple notes we can pass on:
- RB/OLB/P Duke Dolphin is dealing with a potentially serious knee injury that we first reported here last Thursday. Dolphin was in street clothes yesterday and was walking gingerly. He saw a specialist in Seattle Monday and was expected to receive MRI results today. With Dolphin out, Brennan Frost moves into the starting RB slot and could possibly punt. On defense, sophomore Korey Young, junior Cody Riecks and senior Ross Jones all took turns filling with the first unit.
- ILB/OG Alex Moon and S/WR Chameron Lackey are both a little dinged up but should be fine.
- Junior QB Bryson Daggett is officially the starter at the QB position. Sophomore Jake Nelson took some reps with the first team, but later moved over and put the JV offense through some work.
- It looks as though the Vikings will use a four man line against the Mariner Wing T attack, shifting OLB Jason Mendel into a down lineman in some situations. Josh Berg rotated in at defensive tackle as well.
Monday Stars:
OT/DL Garrick Stuart - The big senior lineman plays with a meanstreak characteristic of the best offensive tackles. At Monday's practice, he was in the middle of a few not-so-friendly shoving matches, but also showed an ability to translate his emotion into potentially dominating periods of play at the line of scrimmage.
RB/CB Brennan Frost - The senior ran exclusively with the one offense in Dolphin's absence and looked scintillating. If Dolphin is in fact out, at least Coach Tri won't have to sweat over ways to get Frost the ball on offense. Look for Frost to have a huge game Friday.
Projected Starting Lineup:
Based off my notes from practice, here is an educated guess at how the Vikings will lineup Friday.
QB Bryson DaggettRB Brennan Frost (Dolphin out)WR Arvid IsaksenWR (slot) Chameron LackeyWR (slot) Tyler ResideWR Brandon PreslarOT Jesse PorterOG Alex MoonC Jake Bennett or Spencer SmithOG Jordan EckstromOT Garrick Stuart

DE Jesse PorterDT Jordan EckstromDT Garrick Stuart/Josh Berg/Jake BennettMonster (OLB/S hybrid) Brandon BelcherMonster (OLB/S hybrid) Ross Jones or Cody Riecks (Dolphin out)LB Chase CrowleyLB Alex MoonLB Jason MendelCB Brennan Frost CB Tyler ResideS Chameron LackeyNickle DB Brandon Preslar
Punter Brennan Frost Kicker Arvid IsaksenPR/KR: Brennan Frost, Chameron Lackey, Tyler Reside, Brandon Preslar More later....