Discover more from The Journal 425
411 for the 425 | Reader-supported local journalism with perspective, edge & authenticity. | Your home for Lake Stevens Vikings football. | Privacy: J425 will never share or sell your data.
Over 2,000 subscribers
LSPD Seeks New Badge Cam Solution
The department dumped its initial vendor April 14, citing less-than-user-friendly software functionality. LSPD will be without badge cam coverage during the search for a new vendor.
The Lake Stevens Police Department temporarily halted its badge cam program Friday, April 14 after severing their contract with the department's initial badge cam vendor, Motorola.
The department announced the decision in an April 13 Twitter post and cut ties with Motorola badge cams the next day.
The department will be without badge cams until a new solution is implemented, a process that has already begun and is expected to last around three months.
J425 spoke with Deputy Chief Jeff Young, who gave us a call and walked us through the department's thinking on this issue.
Young explained that while the badge cam hardware (cameras) functioned in a satisfactory manner, the software solutions were cumbersome at best, requiring redundancies of labor and inefficiencies in the practical usability of the data to storage to end use case product path.
In short, looking at my notes, it seems like the cameras worked fine but the software solutions were a pain in the ass.
That's J425 talking not the department.
Young said the department is already in the process of evaluating options.
The department's tech staff are involved, allowing for a practical vetting of vendor software solutions and an appraisal of the ease of work-flow within the department's day-to-day management of the badge cam program
Further, Young told us that no investigations or prosecutions were affected by the issues that led department away from the Motorola program.
We reached out to Lake Stevens Mayor Brett Gailey — who is of course a retired LEO himself — and asked him for his thoughts on the move.
The Mayor called the vendor switch necessary, confirming the department and the City were working on locating a proven vendor to handle the badge cam program — while also lauding the department's commitment to achieving higher standards of efficiency and transparency through the implementation of a better technical solution.
Procurement policy prevents the department from commenting on which vendors may be under consideration for the LSPD contract. However, any of my fellow Active Self Protection fans can probably guess at a likely four letter solution under consideration: ** cough ** Axon **cough**.
That's just a J425 guess, we could be wrong.
And given that J425 has been a bit of a pest on the topic of badge cams, we couldn't let Chief Young off easy, so we asked him why the department couldn't just tough it out with the original vendor until a new solution was chosen, thereby avoiding any lapse in coverage.
Young was ready though, and explained that separating from the initial vendor is a rather complex process that requires legal notice as well as a complex partitioning of Motorola-related records, insuring all of the necessary legal and record-keeping requirements are met while allowing for a clean implementation of what the department hopes will be a long-term solution for the department's badge cam needs.
Simply put, the most direct method of getting the desired end result required the department to swiftly cut its losses with the initial vendor and move forward towards a solution.
It all makes sense.
Given that we're still within year one of the badge cam program's inception, it's not at all surprising that technical kinks need to be ironed out.
After all, while it's easy to think of a badge cam program as hardware (ie: a camera), in reality this is in all actuality a complex software or software-as-a-service project that must meet the complex and arduous needs of investigatory, prosecutorial and public records standards.
That ain't easy.
If anything, we view this as excellent news. The fact that LSPD is proactively cutting losses with a solution that they feel is insufficient for successful integration in both law enforcement and public record-keeping workflows is a good thing and shows a commitment to a streamlined and efficient badge cam program for both now and well into the future.
Background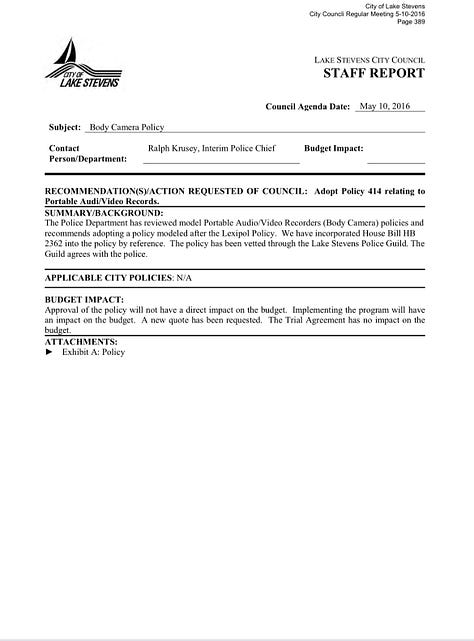 The City's Body Worn Camera policy was adopted in April of 2016, after the passage of House Bill 2632 both cleared the way for municipalities to adopt badge cam programs as well as providing a legal impetus for Washington law enforcement to get moving on this program. The old carrot and the stick approach. Anyway, with the state codifying badge cams into law, the City quickly followed and Lake Stevens Police Department Policy 414 Portable Audio/Video Recorders was approved by council. However, there then ensued a six year gap between previous LSPD leadership adopting a policy…and new Chief Jeff Beazizo actually making it a reality. The badge cam program was officially funded in last year's budget and implemented in 2022. The streamlined implementation and application of this program remains a strategic imperative for the department, according to its recently-adopted strategic plan.
---