Discover more from The Journal 425
411 for the 425 | Reader-supported local journalism with perspective, edge & authenticity. | Your home for Lake Stevens Vikings football. | Privacy: J425 will never share or sell your data.
Over 2,000 subscribers
LS City Beat: Sunset Park Renovation, Feds Send $2.5M, Free Junk Disposal This Saturday
News on an appealing remake of a Lake Stevens pocket park; Community Cleanup (free junk disposal this Sat only; Mayor Gailey and a giant check for a couple $Ms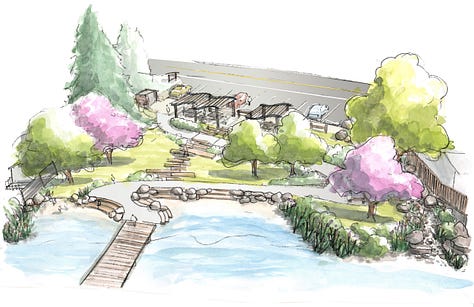 Sunset Beach Park, a pocket-sized piece of Lake Stevens access (410 E. Lake Stevens Rd.) was transferred to the City from Snohomish County two years ago — and after taking some time to evaluate, Lake Stevens is in the middle of upgrading this little gem of a beach with a makeover  aimed at revitalize this property and providing a more inviting, accessible, and better utilized space for this historic pocket park.
With time comes intentionality, so the City leaned on consultants to pitch draft designs taking into consideration existing site features while addressing identified priorities: dock repairs, erosion control, parking, and accessibility. 
The selected design addresses these issues and includes landscaping, permanent restrooms, shade structures, furniture, garbage receptacles, and leisure areas.  
Construction began midsummer and the park is scheduled to reopen Mid October. Plans for the Park renovation can be found here.
---
Get Rid of Your Junk for Free — Community Clean-up is Saturday 
LAKE STEVENS - As long as you live within Lake Stevens limits, Saturday is your annual chance to get rid of trash and junk for free. Community Cleanup is this  Saturday, Sept. 16 from 9 am - 1 pm at Cavelero Mid-High School.
This is only for people living within the city limits, IDs will be checked. Les Schwab will also be there collecting tires. 
See the image gallery above for specifics.
---
See J425 media packet and rate sheet. 
---
Feds Send $2.5M for downtown roundabout and surface improvements
LAKE STEVENS -  The Feds kicked back $2.5 million to Lake Stevens Friday, with Rep. Susan DelBene stopping by in person with one of those silly oversized checks and everything. 
The check is silly but the projects are serious. 
Funding will support downtown revitalization with the construction of a roundabout at the intersection of 20th Street NE and Main Street paired with safety upgrades, multi-purpose paths, ramps, landscaping, trees, street lighting etc. 
Lake Stevens Mayor Brett Gailey says the funding helps helps bring the idea of downtown revitalization forward from an idea to reality. 
Gailey adds that "road improvements at the intersection of 20th Street NE and Main Street will increase safety for drivers and pedestrians traveling to and from downtown Lake Stevens as a community destination."  Not the most exciting quote but hey I can only work with what they give me. 
---