Discover more from The Journal 425
411 for the 425 | Reader-supported local journalism with perspective, edge & authenticity. | Your home for Lake Stevens Vikings football. | Privacy: J425 will never share or sell your data.
Over 2,000 subscribers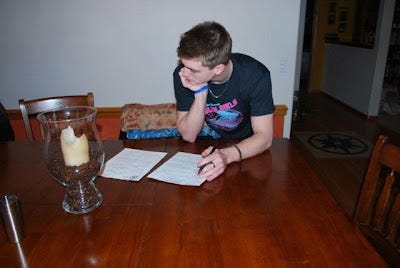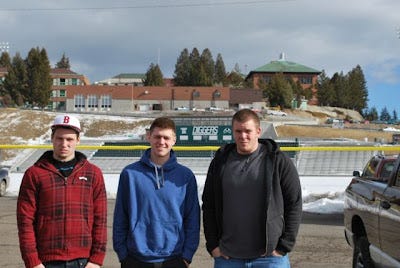 Above - Nick Baker signs his letter of intent, and Baker is joined on campus at Montana Tech by Trevor Riecks (left) and Kelly Kurisu (right). Photos courtesy of Mitch Sauer


Nick Baker - Lake Stevens' record-breaking quarterback - signed a Letter of Intent Tuesday to play QB for the Montana Tech Diggers.
Purple and Gold Pigksin was there when Montana Tech offered Nick during an in-home visit from Recruiting Cooardinator Trevor DiMarco prior to Christmas.
After deliberating for some time, and visiting campus last weekend with teammate Trevor Riecks and former Viking (twice over, LS and WWU) Kelly Kurisu, Baker settled on Butte, MT as his destination.
The Diggers, a NAIA Division I school, compete in the Frontier Conference against opponents such as five-time NAIA Nationial Champion Carroll College. Carroll has won eight straight Frontier Conference crowns, so Baker will look to end that streak when he hits the field.
During the in-home visit, Di Marco indicated that Baker would likely redshirt as a third string quarterback, due to the presence of an upperclassmen. In 2010, it is likely Baker could compete for a starting job, at which point he'd still have four years of eligibility.
Former Viking QB Paxton Paynter plays for Rocky Mountain, also of the Frontier Conference.
Baker will have to improve his already excellent cardio condition, as the Diggers play home games at over one mile of altitude - their 3,000 seat stadium is perched at a lofty 5,725 feet, higher than Denver.
The Grizzlies are coached by a grizzled old veteran straight from central casting. Coach Bob Green is a tough-as-nails ex-military type who has coached the program since its inception over 20 years ago. Apparently, Green is know for his own brand of Yogi Berra-isms, spouting quotes like "I've been coaching since the Dead Sea was only sick".
Notable ex-Diggers include former Indiana, Oklahoma and Washington State basketball coach Kelvin Sampson, after whom the basketball court is named.