Discover more from The Journal 425
411 for the 425 | Reader-supported local journalism with perspective, edge & authenticity. | Your home for Lake Stevens Vikings football. | Privacy: J425 will never share or sell your data.
Over 2,000 subscribers
City's 2023 Goals Announced
Lake Stevens will focus its efforts on these four major deliverables this year. We've got the info for you in a post peppered with J425 video, internal documents and original photography.
"Our goal for 2023 is to advance projects (that) support a vibrant economy, modern infrastructure and a highquality of life… for both residents and businesses."
- Mayor Brett Gailey
Editor's Note: Judging by social media, all Lake Stevens residents really want is a Trader Joe's and a restaurant on the lake. And I'm sure the hero who delivers those items will be honored with a statue atop The Viking Drive-In. It doesn't look like these deliverables are in the cards for 2023. That said, the City does have multiple irons in the fire. In this story, we lay out the four major issue areas on Mayor Brett Gailey's agenda — and what (according to City Administrator Gene Brazel) the City plans to accomplish with regard to deliverables under each topic heading. This is a post chalk-full of resources: we've produced two original videos, a slew of photography and a significant amount of internal City documents, presented for your own review and decision making pleasure. Be sure to also check out

our update on the playground safety

upgrades/closures announced last week. Oh, and we're down to our final two slots in the

J425 AIR 5 Fundraiser.

Will you consider

joining the club

and help get us flying again? - KTH
---
LAKE STEVENS - Earlier this week, J425 snuck you some notes out of the City Council's special meeting, in which they reviewed City progress in 2022. (Just kidding the notes are public record.) However in that article, we promised to return to the topic in a few days, in order to lay out City plans looking forward. This is the fulfillment of that promise. Let's take a look at City initiatives planned for the current year: the City's major initiatives can broadly be viewed in four categories: Infrastructure Improvements, Economic development, Recreation/Quality of Life and Transportation Benefit District (TBD) projects — sidewalks and streets. More on each to follow.
Quick refresher: TBD is that voter-approved sales tax hike that gives the City ten years of locally-provided funding to play around with.
If you really like to get into the granular level of this stuff, you can always head over to the City Planning Department's site or check out approved subarea plans, which serve as the road map the City follows with respect to long and medium term planning.
And one way to greatly impact quality of life is by making the City more walkable.
Quality of Life Improvements
"Our goal for 2023 is to advance projects (that) support a vibrant economy, modern infrastructure and a highquality of life… for both residents and businesses,"
- Mayor Brett Gailey
TBD funding hits City coffers via a .2 percent sales tax approved by voters in November 2022. Think of this as a way to capture two cents on every ten bucks spent in the City. These pennies add up quick: The City estimates that the TBD will provide approximately $1.5 million per year. And while the City doesn't need to wait to physically possess the money before planning how to spend it, that money will become real starting in June.
According to City Administrator Gene Brazel, the TBD funds are earmarked for
sidewalk connections to schools, pedestrian safety projects and street improvements. Brazel says the funding will also be used to leverage additional grant money to build larger traffic congestion-relief projects.
Brazel adds that a complete list of TBD priority projects can be found on the City's website. We'll go ahead and grab those for you. Here's a link or you can check the gallery below.
---
City Document Listing Planned Sidewalk Projects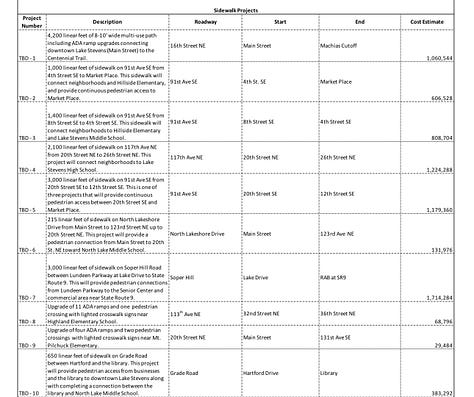 ---
According to Brazel, the first three projects the city will begin this year include:
• Multiuse path on 16th Street NE connecting downtown Main Street to the Centennial Trail
• Sidewalks on 91st Avenue SE between Market Place and 20thStreet SE connecting Lake Stevens Middle School, Skyline Elementary and Hillcrest Elementary
• Sidewalks on 117th Avenue NE between 20th Street NE and 26thStreet NE near Lake Stevens High School
---
Economic Development
The city will continue its revitalization of the Frontier Village corridor — the area the City often refers to as "Lake Stevens Center" focusing this year on the redevelopment concept for 91st Ave NE.
"The economic development vision for this area is to be a pedestrian-oriented "Main Street" and support mixed-use(commercial and residential) buildings," Brazel wrote.
The verbiage of Main Street can be confusing, given Main Street is also in historic downtown Lake Stevens. That said, the meaning is clear enough and the City has planned on this walkable 91st idea since 2012.
Is this a viable idea…does it make sense in 2023? We'll have to wait and see. J425 has a hard time imagining anyone walking 91st though. There's just no store fronts on 91st, which makeup the core of a walkable "Main Street".
Instead, 91st has a series of deep set parking lots that service two major commercial plazas running the length of the "walkable" portion. If you think about how far back Ixtapa is from 91st, you'll understand what we mean when we say it seems like a stretch to picture a strollable street filled with sidewalk-adjacent store fronts.
But hey, surprise us I guess. Brazel states that project consultants are scheduled to present two designs to the City Council by midyear.
The City can also look forward to the addition of more new business, as Lake Stevens Landing is set to feature a slate of openings including Chipotle and Starbucks. Downtown also has an anticipated mixed-use building going in next to North Cove Park.
Industrial Overhaul — Hartford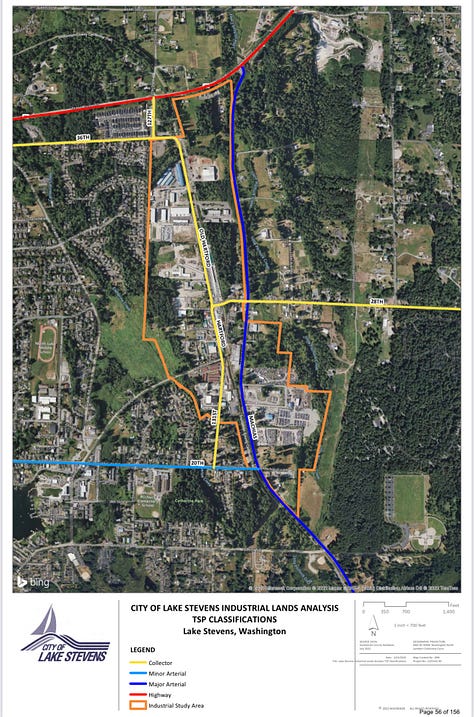 Another key area primed for an overhaul is the Lake Stevens Industrial Center aka Harford. See above for an internal consultant memo on the subject provided to the Council earlier this month.
The City wants to promote this area as one that provides family-wage jobs for residents, but is currently handcuffed by a lack of infrastructure and subpar access. Nearly the entire area lacks sewer access. From a planning point of view, the 280-acre project site combines the Hartford and Machias industrial areas and the City is working on "a multiyear vision" to increase local employment opportunities.
Parks and Recreation
If there's one thing Lake Stevens has done a lot of in the last 36 months, its polling. And apparently the results are in: people like parks.
"City residents have said that parks and recreational opportunities are a priority," Brazel wrote. "The city continues to expand its parks system to ensure spaces for families to play, relax and create community."
The 2023 budget includes funding for improvements at Sunset Park, Frontier Heights Park, 20th Street Powerline Trail and extending the South Lake Stevens multiuse path to Highway 9. The City is also working to secure $1.8 million in state funding to remodel the Cedarwood Community Center.
And lately, the City's growing inventory of playgrounds has become a hot topic…
March 2 Meeting to Discuss Playground Closures
Last year, the City formed a parks department and conducted an inventory of all parks and needed improvements. This included multiple residential parks built by developers but assimilated by the City.
The City conducted a comprehensive assessment of playground facilities and determined four needed to be removed and one will be repaired. Other playgrounds will stay open to the public and be repaired on site. See above attic for info on the March 2 meeting.
See video above and article below for a look at a few of the the playgrounds undergoing updates.
---
Infrastructure Improvements
The city has multiple capital projects underway that will continue this year, including the state's SR9/204 roundabout project.
The state is building multiple roundabouts to reduce traffic congestion, improve mobility, provide better access to businesses and improve connections for pedestrians, bicyclists, transit users, and drivers. The roundabout work is scheduled to resume this spring and wrap up later in 2023. See our archives for extensive coverage on the roundabouts.
---