Discover more from The Journal 425
411 for the 425 | Reader-supported local journalism with perspective, edge & authenticity. | Your home for Lake Stevens Vikings football. | Privacy: J425 will never share or sell your data.
Over 2,000 subscribers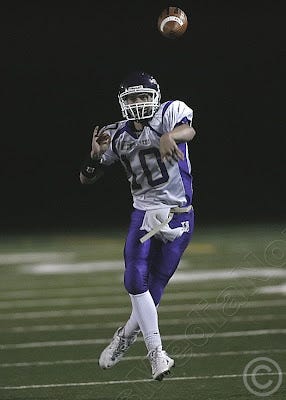 QB Nick Baker turned in a workman-like 19/28 passing for 228 yards and 3 TD performance in three quarters of play. The Vikings defeated the Monroe Bearcats 52-13 in Wesco North action Friday at Monroe Stadium. Rob Carlson/Sportsmedianorthwest.com


By Mike Anderton
Journal Contributing Writer

After a pair of mid-season losses, including a deflating shutout at the hands of Marysville last week, Lake Stevens rebounded with renewed energy and focus to post a 52-13 win at Monroe last Friday.

Against Monroe (0-5 in Wesco North, 2-5 overall) Lake (3-1 and 5-2) looked like a team determined to earn its way into the State Playoffs three weeks down the road. The Vikings dominated in all phases of the game, putting a damper on the Bearcats' Homecoming revelries.
What began as looking like another high scoring shootout -- Bearcat co-quarterback Austin Bray completed a 52-yard pass to wide open Connor Shelford on the game's opening play from scrimmage -- quickly turned into a Viking pillage.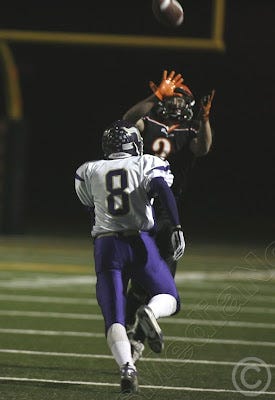 Despite having a healthy Bryan Sonneveldt available, Monroe surprised the Lake defense by starting All Conference RB/S Austin Bray at quarterback. Despite only having one game of experience at the position in his life, Bray hit WR Connor Shelford for a 52-yard connection on the first play from scrimmage. After surrendering the long completion, the Viking secondary clamped up, forcing Monroe QB's into a lousy 5/19 passing for 76 yards and two interception performance. Rob Carlson/Sportsmedianorthwest.com

Two plays after Bray's pass gave his team a first down on the Lake Stevens 30, J.J. McCarthy recovered a Bearcat fumble on the LS 25. That launched a 75-yard, 7-play Viking touchdown drive, during which Nick Baker completed 3 of 4 passes for 39 yards and scrambled for another 10-yard advance, and Duke Dolphin carried for a 22-yard gain.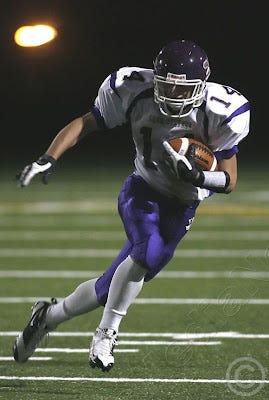 Sophomore Duke Dolphin led the Vikings in carries and receptions, blocked a punt, and scored two rushing touchdowns in the victory. Rob Carlson/Sportsmedianorthwest.com

Dolphin's run set up Baker's 12-yard touchdown pass to Colton Tupen on a perfectly-executed play-fake. Arvid Isaksen's PAT kick (he was to be 7 for 7 in that department) gave Lake a 7-0 margin at 9:12 of the quarter.

The next time Lake got the ball it drove 51 yards in 9 plays. This time Baker was 3 of 3 for 25 yards including a 4-yard touchdown pass to Eric Huswick. 14-0 at 2:04 of the quarter.

The Bearcat defense bit hard on play-action, and Baker found Eric Huswick for the TD without a defender in sight. Rob Carlson/Sportsmedianorthwest.com

The ensuing kickoff was a failed onside attempt, giving Monroe first down on its own 42, setting up (with the help of a pass interference penalty against Lake) Bryan Sonneveldt's 18-yard touchdown pass 7 plays later. The pass was to a player unidentified in the Bearcat program. Mitchell Garino's PAT kick cut the gap to 14-7, one second before the end of the second quarter.

Lake wasted no time in responding. McCarthy returned the kickoff 60 yards to the Monroe 17 and 4 plays from there Baker scored on a one-yard sneak. 21-7 at 10:04 of the second quarter.


Senior return man J.J. McCarthy provided a special teams spark for the Vikings, setting up a second quarter touchdown drive with a 60-yard kickoff return. McCarthy fielded the ball and raced up the middle of the field, before cutting to the sideline and nearly scoring. Rob Carlson/Sportsmedianorthwest.com

Lake got the ball back a short time later via Sean Stickney's interception on the Viking 49. Thirteen plays and 3 penalties later, Lake, having driven to the Bearcat 7, settled for Isaksen's 24-yard field goal. 24-7, 3:06 shy of halftime.

Junior K Arvid Isaksen had a busy (and accurate) evening, connecting on a 24-yard field goal (above) and converting a perfect seven out of seven extra point attempts. Rob Carlson/Sportsmedianorthwest.com

Dolphin's block of a Monroe punt gave Lake possession on the Bearcat 44 with 48 seconds remaining. After a 13-yard holding penalty against Lake, Baker completed 3 straight passes, 24 yards to Tupen, 27 yards to Trevor Riecks, and a 6-yard touchdown to Riecks. 31-7, with 20 seconds left.

Senior wideout Trevor Riecks hauled in his team-leading seventh touchdown reception. The all time Viking season record is ten, set last year by Dustin Adams. Rob Carlson/Sportsmedianorthwest.com

Lake continued its relentless domination in the second half, on offense and on defense. The third quarter saw Dolphin touchdown runs of two and 35 yards.

In the third quarter, the Lake offense turned to the determined ground attack of Duke Dolphin. Dolphin fought off a pile of Bearcat defenders and stretched for a two yard touchdown, and then broke free up the sideline on a 35-yard score on the Vikes next possesion. Rob Carlson/Sportsmedianorthwest.com

It became 52-7 early in the fourth quarter after reserve quarterback Chameron Lackey broke loose for a 69-yard scramble to the Bearcat 12-yard line. Three plays after that, Tyler Reside scooted around the left side for a 5-yard touchdown.

Junior Chameron Lackey replaced Baker at QB late in the third quarter, and promptly escaped the pocket for a 69-yard Vince Young-style scramble. (Ed. Note: We mean to compare Lackey toVince Young when he was at Texas, not the crazy, gun-totin', hot wing addicted suicidal Vince Young that currently is backing up the 56-year-old Kerry Collins.) Rob Carlson/Sportsmedianorthwest.com

Monroe scored the game's final points, against Viking reserves, halfway through the quarter when Bray (who alternated with Sonneveldt at quarterback) completed a 9-yard touchdown pass to Shelford. Ryan Mielke's block of the PAT kick finalized the score at 52-13.

Senior CB Ryan Mielke put an exclamation point on the victory, blocking an extra point attempt late in the fourth quarter. Rob Carlson/Sportsmedianorthwest.com
Baker finished 19 of 28 for 224 yards, no interceptions, and 3 touchdowns (he has 21 of the latter for the season so far), while Dolphin's busy game included 78 yards on 7 carries for two touchdowns, a blocked punt, and 6 receptions for 64 yards.

Reserves played for much of the second half, and all contributed. Ross Jones and Brandon Preslar led the Vikings in tackles with 9 each followed by Stickney and Dylan Youngblood with 8 apiece.

Bo Dickinson sat out the game with an injured ankle but looks to play again next week.

The blowout win was much-needed for Coach Tom Tri's Vikings, who look to turn around their season. Lake's execution was generally smooth and crisp, its demeanor focussed and polished. The offensive line, which broke down against Marysville, sustained its blocks, freeing up Baker and the running game. Lake's overall 452-268 yardage advantage could signal its re-emergence as a State Playoff contender. With two weeks left in the regular season, the Vikings are in position to snare one of Wesco North's 3 berths.