Discover more from The Journal 425
411 for the 425 | Reader-supported local journalism with perspective, edge & authenticity. | Your home for Lake Stevens Vikings football. | Privacy: J425 will never share or sell your data.
Over 2,000 subscribers
Game Story: Who Can Even Count That High? Viks Win 13th Straight Conf Title (+ stats)
Lake mows down Glacier Peak 42-7 in Snohomish. Playoffs start Saturday, 6pm in Lake Stevens.
LIMAR RETURN SPARKS VIKINGS 13th STRAIGHT WESCO TITLE IN 42-7 WIN AT GLACIER PEAK
SNOHOMISH — Lake Stevens wrapped up its 11th straight Wesco 4A title at Glacier Peak last Friday night, a 42-7 blowout dominated by the Vikings from the get-go.  And in the process Lake thrilled its fans by the surprise return to action of Jayshon Limar, who had been sidelined with a potentially season-ending shoulder injury four weeks ago.
Limar supplies Lake with a power-running back, one who can run through would-be tacklers, a key ingredient in Viking prospects as it prepares to launch another title run in the State Playoffs, beginning versus Olympia this Friday night 7 p.m. at Viking Stadium. Limar's talents against Glacier Peak were scintillating as he bulled his way to 103 net yards in 14 carries and two touchdowns, in addition to hauling in a 54-yard toss from quarterback Kolton Matson setting up one of Limar's TD runs.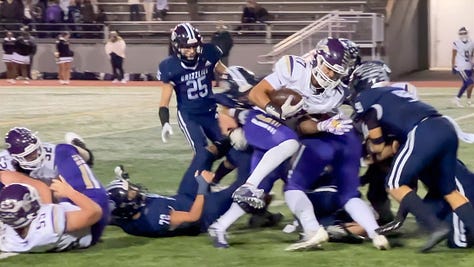 Any notions that Glacier Peak might be ready to challenge Lake for the Wesco crown were quickly dispelled in the first half, which saw Lake out-gain the Grizzlies by 258 total yards to MINUS-one, 13 first downs to two, and 28 points to zero.  Symbolic of the Grizzlies' misery was their taking a knee in the final seconds of the half rather than run another play.
Lake held GP to three-and-out on the game's opening possession, taking over on the GP 28 after a poor Grizzly punt.  Runs of eight and 12 yards by Talha Rai, the latter for a touchdown, along with Lucas Mooring's PAT kick put Lake ahead 7-0 four minutes into the game.
Two minutes later Lake forced another punt and the big Viking visitor contingent gasped in glee as Jayshon entered the game and netted nine yards on his first carry.  There was plenty  more of that to follow.
Lake's second TD, early in the second quarter, covered 68 yards, 54 of them on Limar's catch and carry of Matson's pass to the GP two yard line, from where he carried in on the next play.
Lake then drove 71 yards to the GP six, where the drive stalled and Mooring's 23-yard field goal try was wide.  GP took over on its own 20 but on its first play an attempted pitch, foiled by Lake's Gage Solomon, rolled into the backfield where Gabe Kylany snatched it up and carried it seven yards into the end zone.  21-0 with four minutes left in the half.
Lake's fourthTD of the half covered 46 yards in six plays including Matson to Jesse Lewis for 10 yards, runs of nine and 10 yards by Rai, a Jesse Lewis 10-yard run, and Matson's 12-yard scoring strike to Paul Varela (subtract five yards for a Viking penalty, as Lake was penalized eight times for 64 yards for the game).
Glacier Peak showed its one and only spark of competitiveness as it opened the second half with Chrisvin Bonshe carrying four consecutive times for five, 10, 10 and 30 yards, the latter for a touchdown.  Jared Kuchcinski added the PAT kick. 28-7. For the remainder of the second half the Grizzlies netted 23 yards.
Lake scored twice in the second half, once in each quarter.
Solomon set up Lake's third quarter TD with his fumble recovery on the GP 44. Matson scrambled for 19 yards and eight plays later tossed to David Brown for a six-yard TD, Brown's 12th touchdown reception on the season.
Lake's fourth quarter TD covered 50 yards in six plays, but before that, a non-scoring drive was highlighted by one of Lake's most outstanding plays of the season:  on fourth down Matson dodged several would-be tacklers before spotting Varela on the left sideline, the latter making a spectacular ankle-depth catch for a 20-yard gain and a first down on the GP 31.  
As for that 50-yard drive, Limar carried the load entirely himself, rushing for 17, 12, four, five and six yards, the latter carry for a TD in which he ran through half a dozen Grizzly tacklers.
Matson was 16 of 30, no interceptions, for 215 yards and two touchdowns, which puts him over 2100 passing yards for the season along with 30 touchdowns and five rushing touchdowns.
Varela caujght five Matson passes for 75 yards, David Brown caught four passes for 43 yards, each player with one TD.
Solomon's outstanding evening saw him make 16 tackles (five of them for loss), recover a fumble, and help cause the fumble that resulted in Kylany's recovery for a touchdown.
Lake outgained GP by 438 total yards to 78 and by 21 first downs to seven.
---
LAKE STEVENS @GLACIER PEAK FOOTBALL STATS (10-27-23)
RUSH               C     G    L    NET    AVG   TD
Limar              14    104  1     103       7.4    2
Rai                  13      73  9       64       4.9    1
Matson             2      40  0       40     20.0
Jesse Lewis     1     10   0      10      10.0
Varela                1      6   0        6        6.0
LS                    31   233  10    223      7.4    3 
GP                   35   128   60     68      2.5    1
PASS
Matson          16-30-0   53%   215 YDS  2 TD
Moser              0-  1-0     0% 
LS                  16-31-0   52%    215 YDS  2 TD
GP                    2-  8-0  25%      10  YDS
RECEIVING        #      YDS    AVG    TD
Varela                 5        75      15.0     1
D. Brown            4        43      10.8     1
Lee                      2       17        8.5
Jesse Lewis       2       13        6.5
Limar                  1        54      54.0
Howard               1       10       10.0
Kylany                1         3         3.0
LS                      16      215     13.4     2
GP                       2         10      5.0      0  
FUMBLE RECOVERY
Kylany       7 Yard Return For TD
PUNTING
Matson       40, 34, 16 = 30.0 AVG
FIELD GOAL
Mooring      23 No Good
FIRST DOWNS
LS      21
GP       7
PENALTIES
LS      8 For 64 YDS
GP     3 For 27 YDS
SCORING      TD   PAT1   FG   TOTAL
Limar               2                         12
Rai                   1                           6
Kylany             1                           6
Varela              1                           6
D. Brown         1                           6
Mooring                 6/6       0/1      6
LS                    6    6/6       0/1     42
GP                   1     1/1                  7
LS      7  21  7  7  --  42
GP     0    0  7  0  --    7
TACKLES  (For Loss or No Gain; Includes Shared Tackles)
Solomon      16 (5)
Howard        10 (2)
Sedano          9 (2)
Kylany           9 (1)
Turner            7 (5)
Waxham         7
D. Brown        4 (1)
Bryce Sleazk  3 (2)
Lee                  3 (1)
K. Brown         3
Price                2
Jesse Lewis    1
Okiyama          1
Total                75 (19)
QB SACK
Kylany