Discover more from The Journal 425
411 for the 425 | Reader-supported local journalism with perspective, edge & authenticity. | Your home for Lake Stevens Vikings football. | Privacy: J425 will never share or sell your data.
Over 2,000 subscribers
VIKINGS BEAT ARLINGTON 31-21 -- LAKE'S THIRD COMEBACK WIN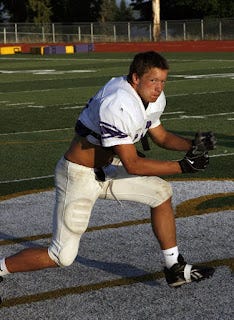 Junior linebacker/safety Brandon Belcher (left) has 27 tackles over the last two weeks and has emerged as the Vikes' most fearsome tackler. Rob Carlson/Sportsmedianorthwest.com

By Mike Anderton
Purple and Gold Pigskin/Lake Stevens Journal Contributing Writer

Lake Stevens upped its season record to 3-1 (2-0 in Wesco North) with a come from behind 31-21 win over Arlington on Friday night in front of a packed Viking stadium.

All three LS wins have been comebacks. The slow-starting Vikings have been outscored by a cumulative 42 to 14 in the first quarter so far this season, but have outpointed the opposition by 66 to 37 in quarters two through four.

Lake, normally relying heavily on its passing game, sought to surprise the Eagles by sticking to a mostly ground attack, a strategy that didn't work in the first half when Lake, beset by nine plays which produced negative yardage, netted a paltry 14 yards in the rushing department.

But running back Brennan Frost dramatically changed that in the third quarter, exploding for all 125 of Lake's rushing yards in the period, on 5 carries, two of them for touchdowns covering 34 and 66 yards.

Frost also accounted for Lake's only touchdown of the first half, turning a screen pass from Bryson Daggett into a 57-yard touchdown in the second quarter that kept Lake within 11-7 of the Eagles at halftime.

Big plays made the difference for Lake, which was outgained by the Eagles, 407 yards to 306, and out first-downed as well, 18 to 11.

Lake failed to gain a single first down in the first quarter, which saw Arlington take the lead after Tre Mendenhall intercepted a Daggett pass and returned it 20 yards to the Viking 30. On the next play quarterback Andy Smith tossed to Griffin Ginnis for a 30-yard touchdown. The same pair combined to trick the Vikings on a two-point conversion to make it 8-0, with 52 seconds left in the quarter.

Brandon Pierce's 25-yard field goal upped the Eagles' lead to 11-0 at 8:44 of the second quarter. But it could have been worse. Jake Parduhn runs of 9 and 14 yards and a 25-yard halfback pass from Blake McPherson to Ginnis had led to Arlington having second-and-goal from the Viking one-yard line when a sidelines communications glitch led to the ball being snapped with quarterback Smith looking the other way, resulting in an 8-yard loss. leading to the field goal rather than a touchdown.

After the kickoff, runs of 15 and 9 yards by Frost was followed by a bad center snap costing Lake 10 yards, but on the next down Frost broke a screen pass for a 57-yard touchdown, which with Arvid Isaksen's PAT kick made it 11-7 with 6:48 left in the quarter.

Garek Stuart's quarterback sack at midfield ended a mild Eagle threat before halftime, but the visitors returned the favor by sacking Daggett twice in the final minute.

Early in the second half Viking linemen Jordan Eckstrom and Jesse Porter stopped the Eagles on downs by tackling Riley Cobb after a one-yard gain, 3 yards short of a first down on the LS 45.

That launched Frost on his third quarter tear. Freed by crisp blocking by the Viking O-line, he spun for a 12 yard gain, then 9 yards, and finally 34 tackle-breaking yards for the go-ahead touchdown. But Isaksen, for only the second time in his career, missed a PAT kick, leaving Lake's lead at 13-11 at the 8:07 mark of the quarter.

It took the Eagles just 5 plays to regain the lead, behind Smith passes of 17 yards to McPherson and a 39-yard touchdown to a wide-open Conner Varnell. Pierce's PAT made it 18-13 Eagles with 5:51 left in the quarter.

Lake responded immediately with a 74-yard touchdown drive that featured some outstanding Viking athleticism. The drive covered 7 plays and included two penalties against Lake. It started with Daggett passes of 14 and 13 yards to Chameron Lackey and Tyler Reside. On third-and-7 from the Viking 44 Daggett scrambled out of trouble and fired a low pass to Reside at about the Eagle 40. Reside reached around the Arlington defender to snare the ball on his fingertips and raced to the 15 for a 41-yard gain.

Two plays later Isaksen leaped high at the far left endline of the end zone to pull down a Daggett bullet for a spectacular touchdown. Daggett then hit Lackey for a two-point conversion completion to make it 21-18, Lake, with 2:19 left in the quarter.

Three Smith passes produced zero yards, forcing Arlington to punt, with Lake taking over on the Viking 34. On first down Frost broke another counter for 66 yards and a touchdown, with Isaksen adding the PAT for a 28-18 Viking lead, 1:20 remaining in the quarter.

Arlington dominated the fourth quarter in the yardage department (Lake's only first down in the quarter came via a major Eagle penalty) but the Viking defense managed to hold on for the win.

Jake Bennett's tackle of Parduhn for a one-yard loss on third down forced the Eagles to settle for Pierce's 28-yard field goal with 8:43 left, cutting Lake's lead to 28-21.

Another Eagle threat was thwarted by Reside's interception of Smith's pass on the Viking 15, returned 20 yards to the 35, at 4:54.

With 2:30 left another Eagle drive ended on downs at the Eagle 39 after Smith passes to Varnell, each of which would have produced a first down, were ruled incomplete -- one on a "trap" and the other when the ball was caught barely out of bounds. (Edit. Note: Actually, Arlington yanked Smith for this drive and went with the sophomore Blake McPherson at QB. McPherson went 0-4, the Eagles turned it over on downs, and on the final possesion Smith was back at QB and McPherson was back at WR, altough he did complete a pass on a gadget play. - KH)

A 15-yard Eagle penalty gave Lake first down on the Eagle 24. On fourth down Isaksen sealed the win for Lake with a 37-yard field goal. 31-21 Vikings, with 54 seconds left.

Arlington tried to rally behind a McPherson to Ginnis 30 yard completion and one of 15 yards by Smith to McPherson, before Lackey intercepted Smith in the end zone with one second left.

Frost, held to 20 net yards in the first half, finished with 147 net in 13 carries. Lake netted 142 yards on the ground and 164 via the pass, on 10 of 17 (with one interception). Arlington netted 192 yards rushing (Cobb carried 11 times for 93 net), and completed 14 of 33 passes (with two interceptions) for 215 yards.

Leading Viking tackler was Brandon Belcher with 12 (he also recovered a fumble), with 10 by Alex Moon, 9 by Lackey, and 8 by Chase Crowley.