Discover more from The Journal 425
411 for the 425 | Reader-supported local journalism with perspective, edge & authenticity. | Your home for Lake Stevens Vikings football. | Privacy: J425 will never share or sell your data.
Over 2,000 subscribers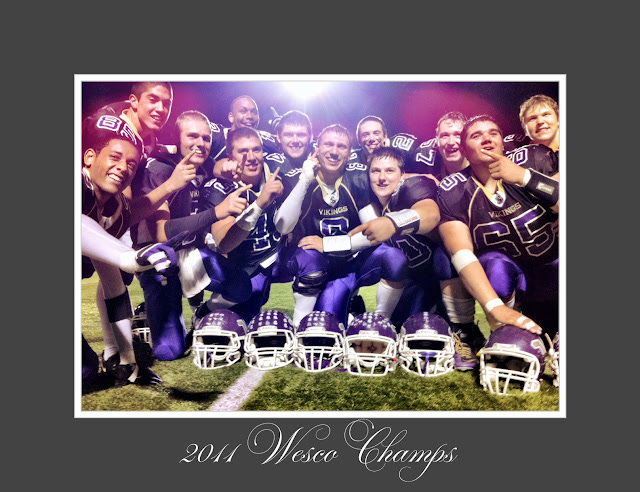 VIKINGS POWER PAST MARYSVILLE-P 38-7 FOR TITLE-CLINCHING HOMECOMING WIN

By Mike Anderton
Purple and Gold Contributing Editor

It's official. Lake Stevens clinched the Wesco North 2011 football championship with a 38-7 Homecoming pounding of Marysville-Pilchuck last Friday.

Lake (4-0 in Wesco, 7-0 overall) also clinched a first round home field State Playoff berth after it concludes the regular season at Stanwood this Friday and at Edmonds-Woodway (Wesco South champion) the following week in a game which will determine the overall Wesco champ.

This game was, for Lake, a test of physical power. In recent years the Tommies have dominated Lake at the line of scrimmage, punishing the Vikings with superior line play and big-play backs.

Not this time. This year's Vikings, number ten in the 4A state rankings, are rounding into a team which can dominate on defense as well as on offense.

Lake's defense held MP to 148 net rushing yards, just 3.8 per carry, half of its season average. This time the Vikings were clearly the physically superior team, dominating in the heart of the line and at linebacker.

And on offense, proving that Lake isn't entirely just the Jake Nelson passing circus, back Shae Giddens had the game of his life, running through, over and past MP for 191 net yards in 19 carries and a touchdown. Giddens took advantage of holes opened by his O-line but he also carried MP tacklers with him on several occasions for extra yardage.

As for Nelson, he was nearly perfect, completing 17 of 20 passes (no interceptions) for a pair of TDs and two more via the rush, where he finished with 97 net yards in 11 carries. Nelson is on a 71% completion tear so far this season, one of the best marks in the state and on pace to set the all-time Viking record.
Christian Gasca, Wesco's leading receiver, turned in another outstanding effort with seven catches for 90 yards and a TD.

After a scoreless first quarter Lake put 21 points on the board in the second period for a 21-7 halftime lead.
Lake's initial TD was set up by a Viking defensive stand which stopped MP on fourth and two at midfield. Typical of Lake's gang-tackling, at least four Vikings were in on the play, stopping Cody House for a one-yard gain at the Viking 48 -- Korey Young, Cody Tupen, Devin Guy and Brandon Johnson.

It took Lake just three plays from there to open the game's scoring. Giddens ran for eight yards, Gasca made an acrobatic catch of a Nelson pass for a 37-yard gain, followed by Nelson's seven-yard TD rush. Tanner Sellars added the PAT. 7-0 Lake, 9:27 before halftime.

Marysville tied it with a seven-play, 74-yard drive which featured two long-yardage Jake Luton completions, 36 yards to John Naff and a 34-yard TD pass to Deion Stell.
Naff's PAT made it 7-7 at 6:44.

Lake scored again just three plays later. Giddens gained seven yards, then broke a 55-yarder, setting up Nelson's 17-yard TD run. Giddens ran through several would-be tacklers on his long run while Nelson's quick, shifty feet eluded Marysville's defense for his 13th rushing TD of the season. 14-7, at 5:42.
Viking defense forced an MP punt, Lake taking over on its own 21 with 1:22 left in the half.

Five plays later Lake was in the end zone again. Two Giddens runs netted 12 yards and a first down. Nelson hit Gasca for a 22-yard gain. Nelson scrambled for another 20 yards. Nelson connected with Gasca again, this time for a 25-yard TD in what was one of Lake's niftiest plays of the season. Nelson, eluding tacklers in the backfield, flipped the ball to Gasca who had cut back into the middle, then reversed to the left to score untouched. 21-7, fourteen seconds before halftime.

Lake doubled MP in yardage in the second half, shutting down the Toms 17-0 after the halftime Homecoming festivities.

Brady Pahukoa's interception of a Luton pass was returned 24 yards to the MP 49, setting up a scoring drive that resulted in a 20-yard Sellars field goal. The only down side was that, after Giddens and Nelson alternated rushes netting 44 yards, producing a first and goal at the MP five yard line, Lake failed to score a "red zone" touchdown for one of the few times this season.

A rare delay penalty cost Lake five yards, and a couple of short pass completions left Lake two yards shy of the end zone. When Giddens was stopped for a one-yard loss on third down (his only negative rush of the game) Lake opted for Sellars' successful field goal. 24-7, at 3:00 of the third quarter.

An eight-play, 70-yard Viking drive made it 31-7 at 10:10 of the fourth quarter.

Giddens carried three times for 32 yards, Nelson twice for 23 yards, Nelson to Pahukoa gained 15 yards, and Nelson's three-yard pass to Ryan Enyeart finished it off (Enyeart's first TD reception of the season and Nelson's 14th TD toss).

Marysville's next possession ended on downs at the Viking 26 after Guy and Enyeart sacked Luton for a three-yard loss and Luton's fourth-down pass was incomplete.

That set up a final Viking TD drive, 74 yards in nine plays including runs of 11 and 22 yards by Giddens, a pair of short passes to Quincy Carroll, and Giddens' two-yard scoring run, capping off his scintillating evening. 38-7 with 2:08 remaining.

Lake outgained MP in rushing by 287 net yards to 148. Nelson's 17 for 20 game tacked on another 184 yards while Luton's seven of 15 (with one interception) gained 145 yards.
Lake had 21 first downs, MP 12.

Marysville played without its outstanding running back Andre Pina, apparently dropped from the team. Taking up the slack in his absence were Chris Herbert and Stell, who combined for 115 net yards in 18 carries.

Leading the tackle parade for Lake was Young with 19, followed by Elgaen 16, Guy and Enyeart 11 each, and nine apiece by Johnson and Paul Labreche.

Sharing quarterback sacks were Johnson, Guy, Enyeart and Tupen.