Discover more from The Journal 425
411 for the 425 | Reader-supported local journalism with perspective, edge & authenticity. | Your home for Lake Stevens Vikings football. | Privacy: J425 will never share or sell your data.
Over 2,000 subscribers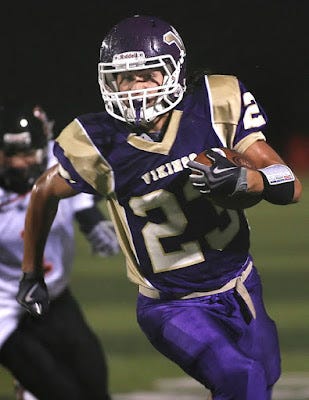 Brennan Frost continued his scintilating senior campaign with a 223-yard, three touchdown performance last Friday versus Monroe. Rob Carlson/Sportsmedianorthwest.com

VIKINGS BEAT MONROE AT HOMECOMING 30-6, EDGE CLOSER TO PLAYOFFS

By Mike Anderton
Journal Contributing Writer/Purple and Gold Pigskin

It was a good news/bad news Homecoming for Lake Stevens last Friday.

Good news: Lake won the game 30-6 to edge closer to earning a spot in the State Playoffs.

Bad news: The game was played in a downpour which effectively ruined Lake's passing attack (4 of 15 for 58 yards).

Good news: Brennan Frost ran wild for Lake, especially in the first half where he carried nine times for 202 net yards and 3 touchdowns covering 27, 43 and 54 yards (he finished with 223 net in 14 carries).

Bad news: Lake lost yet another key player to injury, when Chameron Lackey went down with a damaged knee in the third quarter; he's reported to be out for the season.

Good news: Injured Viking linemen Garek Stuart and Jesse Porter (neither of whom played vs. Monroe) MAY be able to return to the lineup before the season ends.

Bad news: After Lake compiled a 23-0 lead less than two minutes into the second quarter it only outscored Monroe 7-6 the rest of the way. This was partly due to Coach Tom Tri's liberal substitutions and partly due to sloppy play all around.

Good news: Lots of reserves saw action for the Vikings, and some of them, replacing injured starters, played well, including junior linemen Gunnar Ecklund and Taylor Metzger. Lake's offensive line did a stellar job of helping free up Frost for his touchdown rampage. Nose tackle Josh Berg was a dominant defensive force inside, notching three quarterback sacks among his 11 takedowns.

Bad news: Had the crowd only known how awful the second half was going to be (Lake netted 23 yards and two first downs after intermission) it might have opted to escape the monsoon after enjoying the halftime Homecoming show which included the traditional Running of the Great Chicken, Coronation of Royalty, lively Viking band, and fireworks.

Good news: See halftime Homecoming show, above.

The win set up Lake (3-1 in Wesco North, 4-3 overall) with a clear-cut scenario: win at Oak Harbor this Friday or against Snohomish at Lake the following week and the Vikings are in the Playoffs.

Monroe was hampered by the absence of several key players (including its starting quarterback and its star running back) to injury and to academic suspension, and Lake to its credit jumped all over the Bearcats in the early going. After that, it was slop city for both teams. Lake's 30 points included a Bryson Daggett to Tyler Reside 13-yard touchdown pass in the third quarter and a safety in the first quarter when the Bearcats snapped the ball out of the end zone in a failed punt attempt. Arvid Isaksen caught a 37-yard screen pass and kicked all four extra points; he has been playing on a bad ankle for much of the season.

Lake finished with 200 net yards rushing to 37 for Monroe. The latter completed 9 of 27 passes for 88 yards, with Viking interceptions by Jaime Laurine and Christian Gasca. Laurine also intercepted Monroe's two-point PAT attempt.

Vasya Bogdanoff punted six times for Lake, for an outstanding 41.8 average.

In addition to Berg's three QB sacks Chase Crowley, Jordan Eckstrom and Korey Young had one sack apiece.

Leading Viking tacklers were Berg 11, Eckstrom 11, Jason Mendel 10 (he also recovered a fumble), Metzger 9.