Discover more from The Journal 425
411 for the 425 | Reader-supported local journalism with perspective, edge & authenticity. | Your home for Lake Stevens Vikings football. | Privacy: J425 will never share or sell your data.
Over 2,000 subscribers
105-YARD DRIVE EARNS VIKINGS 21-17 COMEBACK WIN AT STANWOOD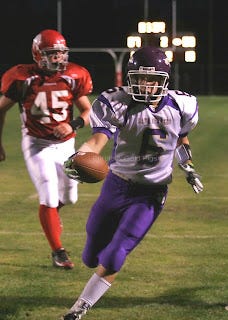 WR Arvid Isaksen kept the Vikes afloat with his first half heroics, scoring two TD's and having an additional TD called back due to some dubious officiating. Photo by Rob Carlson/SMN.com

By Mike Anderton
Purple and Gold Pigskin/Lake Stevens Journal Contributing Writer

Late in the going at Stanwood last Friday, with the Spartans ahead 17-14 and seemingly driving towards a clinching touchdown, Lake Stevens came up with a series of game-saving big plays to pull out a 21-17 comeback win.

Re-focussed from the prior week's embarrassingly inept performance versus Glacier Peak, Lake desperately needed a win here, in its Wesco North season opener. Stanwood and Lake are among the teams expected to contend for one of the league's three available Playoff spots.

The Vikings (1-0 in league, 2-1 overall) seemed primed and ready for this one, with Chameron Lackey, on a quarterback draw, gaining 19 yards on the game's first play. Bryson Daggett then stepped in at QB to lead his team downfield to an apparent touchdown, with completions of 8 yards to Brandon Preslar, 20 yards to Tyler Reside, and a 29-yarder to Arvid Isaksen for what at first looked like a leaping touchdown catch, until it was ruled that he had pushed off and was called for offensive pass interference, which killed the drive.

Stanwood's Andrew Price returned Lake's punt 31 yards to the Spartan 43, launching a 14-play touchdown drive that saw Spartan QB Michael McCune connect on three passes including a fourth downer to Brock Reinecke which covered 19 yards to the Viking 18. Four plays later, Brad Gee scored from the one, with Sam Harris adding the PAT kick to make it 7-0 with 3:55 left in the opening quarter.

Isaksen caught a pair of touchdown passes in the second quarter to spark Lake to a 14-7 halftime lead. The first score followed a Lake defensive stand, in which, on fourth down, Viking sophomore linebacker Korey Young (who was to come up with the game's most crucial defensive play later on) knocked down a McCune pass for an incompletion.

Lake took over on its own 36 and three plays later Isaksen made a leaping catch of a Daggett pass for a 42-yard gain to the Spartan 22. Three plays later Isaksen, open up the middle, hauled in Daggett's 12-yard toss for a touchdown which, along with Isaksen's PAT kick, tied the game at 7-all, 6:31 before haltime. Lake held Stanwood on downs, taking over following a punt to the Viking 48.

Two plays later, on a fly sweep run/pass option, Lackey elected to throw and hit a wide-open Isaksen for a 53-yard touchdown. Isaksen's PAT put Lake ahead 14-7, 4:07 before halftime.

A Stanwood threat failed at the halftime buzzer when Harris' 52-yard field goal was wide to the left. Harris, blessed with big-time "leg", booted all four of his kickoffs into the end zone for touchbacks.

A 26-yard Harris field goal, bringing Stanwood to within 14-10 with 7:06 to go in the third quarter, was that period's only scoring.

A Daggett pass intercepted by Kyle Bennett and a bad Viking snap resulting in a 23-yard loss stymied Lake in the quarter. The latter spoiled a drive that had reached the Spartan 28.

Stanwood took the lead at 10:09 of the fourth quarter via a 13-play, 88-yard drive which saw McCune complete a 28-yard pass to Kayden Barrish (the Viking defender fell down on the play, leaving Barrish wide open, but the latter also fell after catching the pass, or he would have gone all the way). McCune's 25-yard touchdown pass to Kale Schmitt put his team ahead (with Harris' PAT) by 17-14.

Lake suffered a bad break shortly thereafter when Daggett's pass was tipped and intercepted by Harris who returned it to midfield, with about 9:00 left. A personal foul on Lake on the play moved the ball to the Viking 35.

McCune's 16-yard keeper and runs of 8 and 5 yards by Ben Ulrich netted Stanwood a first down on Lake's 7.

On the next play Viking linebacker Young delivered a hard tackle on Ulrich, forcing him to fumble the ball with Viking Chase Crowley recovering it in a pileup on the 10.

With 6:14 left in the game, Lake needed to drive the ball downfield to at least get into position for a field goal.

A second-down 28-yard Dagget to Preslar screen pass gave Lake first down on its own 42. On the next play Daggett teamed with Reside for a 25-yard completion, but a play later Lake was whistled for a 15-yard "crackback" illegal block pushing possession back to the Viking 41.

Preslar, getting himself open on play after play, then hauled in a 39-yard Daggett pass to the Spartan 20. The same combo worked on the next play for a 9-yard gain, but that was followed by a 4-yard sack of Daggett by Zach Johnson.

That was immediately followed by another Daggett- Preslar completion, good for 10 yards and a first down on the five.

Brennan Frost carried for 4 yards to the one, where Daggett punched it in for the winning score with 1:25 left. Isaksen's PAT added the final point to make it 21-17.

Stanwood stepped out of bounds on its own 10-yard line on its kickoff return, and a play later Lake's Alex Moon snared a tipped McCune pass and returned it from the 20 to the 14. Three running plays up the middle ate up the clock.

The game-saving drive officially covered 90 yards in 9 plays, but with the 15-yard penalty factored in, it covered 105 yards.

In a game full of heros for the Vikings (linebacker Brandon Belcher among them; he contribued 15 tackes for the second straight game) it was the TEAM and the coaching staff which most deserved the game ball.

After the Glacier Peak debacle, the Vikings desperately needed to right their ship if they were to prove themselves as a contender for the Playoffs. In what may become a multi-team dogfight, Lake with this crucial win has put itself in position to contend for the post-season.

Daggett completed 14 of 27 passes (with two interceptions) for 245 yards. Overall, Lake completed 16 of 31 (with two interceptions) for 313 yards. Isaksen's three receptions, all in the first half, covered 107 yards. Preslar's 5 receptions, 4 of which covering 86 yards came on the final drive, netted 94 yards. Reside's 4 catches gained 59 yards.

The Vikings rushed for 56 net yards (Frost netted 42 yards in 12 carries), to 156 net by Stanwood. McCune completed 9 of 25 passes (with one interception) for 123 yards.

Each team had 7 penalties, Lake's for 75 yards, Stanwood's for 49 yards. Each team earned 17 first downs.

Leading Viking tacklers were Belcher with 15, Crowley 13, Young 10, Moon 8.