Discover more from The Journal 425
411 for the 425 | Reader-supported local journalism with perspective, edge & authenticity. | Your home for Lake Stevens Vikings football. | Privacy: J425 will never share or sell your data.
Over 2,000 subscribers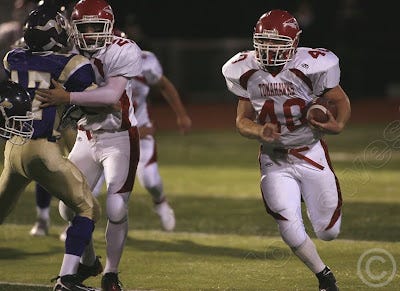 Ryan Sterly and the Tommies were too much for the Vikings on this night. Rob Carlson/Sportsmedianorthwest.com

By Mike Anderton
Journal Contributing Writer (Note - the following story will run in Wednesday's Lake Stevens Journal)

The Great Chicken made its traditional Homecoming appearance at Lake Stevens last Friday. But it was the Viking football team which laid the egg. In the biggest game of the year so far, one which probably decided the Wesco North championship, Lake (4-2, 2-1 in Wesco) proved to be no match for undefeated Marysville (5-0, 3-0). A jam-packed crowd was on hand to bear witness.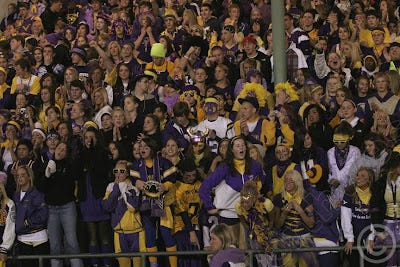 The Superfans and an estimated 3,000 of their friends descended upon LSHS Stadium Friday. Rob Carlson/Sportsmedianorthwest.com

In a highly anticipated battle between Marysville's pound-it-out ground game and Lake's pass-happy, no-huddle spread, fundamental blocking and tackling made all the difference.

To put it simply and plainly, the Toms controlled the line of scrimmage, harrassing Viking quarterback Nick Baker with blitzes and covering his dump-off passes so well that 13 of his 20 completions went for less than 10 yards.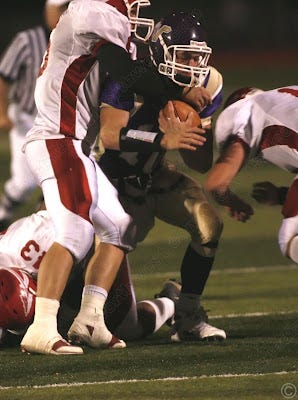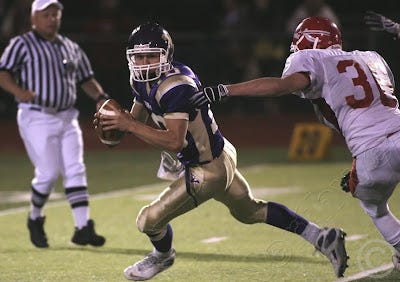 Baker was hit hard - early and often. The Marysville-Pilchuck pass rush was often able to generate pressure without resorting to blitzes, making passing difficult. Rob Carlson/Sportsmedianorthwest.com

Meanwhile, Marysville's rushing attack proved to be as good as advertised. With league-leading rusher Austin Denton paving the way (24 carries for 174 yards net and a touchdown -- he now has 19 touchdowns for the season) the Toms punished Lake for 304 net yards for the night. That follows the 295 rushing yards the Vikings allowed to Jackson in the previous week.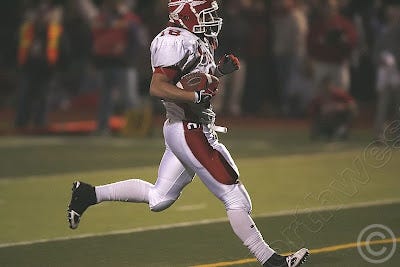 Austin Denton and the M-P backs bulled through the Viking defense for three rushig TD's. Rob Carlson/Sportsmedianorthwest.com

Still, Lake may well have made a game of this had it not committed 4 turnovers (2 interceptions, 2 fumbles) and suffered from several bad snaps one of which cost it a 19-yard loss.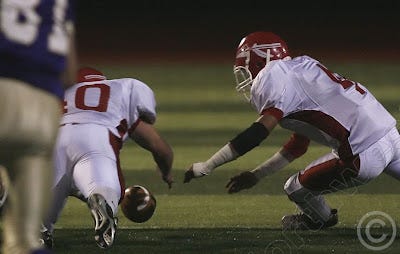 Lake turnovers did not help the cause. Rob Carlson/Sportsmedianorthwest.com

After Lake forced a three-and-out in Marysville's first possession Baker's first pass was intercepted by Ryan Sterley and returned 13 yards to the 50. Four plays later Sterley curled around left end for a 32-yard touchdown run. Danny Stokes' PAT kick made it 7-0, at 8:13 of the quarter.

But not to worry, right? Lake entered this fray with a penchant for coming from behind, averaging 40 points a contest, scoring no fewer than 35 points in any of its previous games.

A holding penalty stopped a minor Viking drive in its next possession.

Colton Tupen's interception on the Viking 7 halted a Marysville threat, and on the next play, Bo Dickinson, returning to action after a two-game injury layoff, carried for a 32-yard gain helped by a brilliant Tupen block.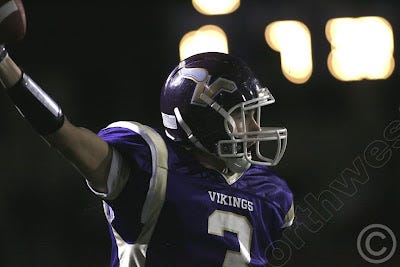 The Viking defense was oppotunistic early, as Colton Tupen made a highlight-reel pick on an early third down play. Rob Carlson/Sportsmedianorthwest.com

But that drive soon fizzled and Lake's punt covered only 8 yards, setting up Marysville on the Viking 48.

Zach Teuber recovered a pair of Marysville fumbles in the second quarter, temporarily staving off further damage, but Sterley returned the favor later in the quarter, recovering a Viking bobble on the latter's 35, and 6 plays later quarterback Devin Peterson tossed 11 yards to Jarrett Finau, the latter making a diving catch in the end zone to produce a 14-0 Tomahawk lead with 57 seconds left in the half. Marysville has completed 9 passes all season long but 7 of those have gone for touchdowns. Peterson finished one-of-3 for the game.


Zach Teuber recovered two fumbles in the first half. Rob Carlson/Sportsmedianorthwest.com

Baker then fired off 3 completions -- including 30 yards to Dickinson and 13 to Trevor Riecks, setting up Donavan Granston's 37-yard field goal try which was left and low 10 seconds before the halftime gala.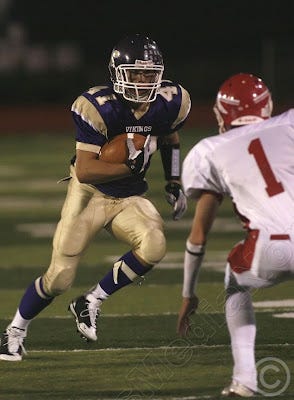 Trevor Riecks had three catches for 13 yards. Rob Carlson/Sportsmedianorthwest.com

Lake received the second half kickoff with comeback on its mind. Dickinson carried for 7 yards but injured his ankle on the play and did not return to the game. Baker hit Eric Huswick for a 15-yard first down on the Marysville 48. But on the next play Duke Dolphin fumbled with Mark Pangilinan recovering on the 47 and 9 plays later, with Denton lugging the ball 49 yards in 7 carries, including a 3-yard touchdown, Marysville all but put the game away, 21-0, 6:22 left in the quarter.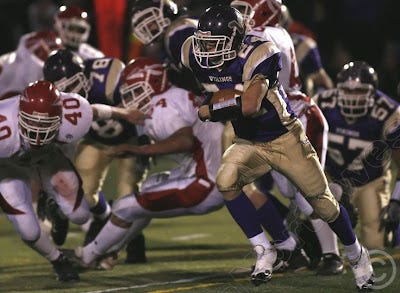 RB Bo Dickinson looked great before leaving with an injury early in the third quarter. Rob Carlson/Sportsmedianorthwest.com

In the fourth quarter Baker drove his team to a first down on the Marysville 11 but a bad center snap cost Lake five yards, which combined with three Baker incompletions to turn the ball back over to the Toms.

Marysville's final touchdown covered 81 yards in 13 rushes, with Caleb Posey's 9-yard run capping the scoring at 28-0, 7:16 before the bitter end.

Baker finished with 20 completions in 33 attempts (with two interceptions) for 179 yards. In the process he established the Viking career record for passing yardage (3171 and counting, breaking Dave Powroznik's 1981-82 total of 3015 -- which Powroznik established in just 15 games), and for completions in a season (136, breaking Powroznik's total of 135 in 1982).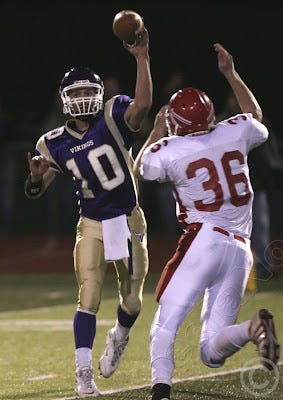 Nick Baker set the career passing yardage mark in the loss. Rob Carlson/Sportsmedianorthwest.com

Leading the Vikings in tackles was Sean Stickney with 16 and Jacob Huddle with 13.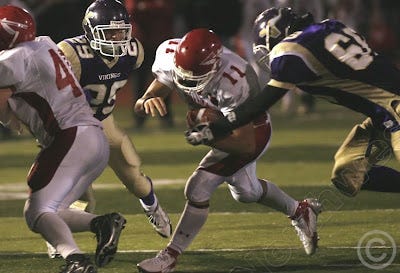 Sean Stickney led the Vikes in tackles with 16. Rob Carlson/Sportsmedianorthwest.com

Despite the discouraging loss, Lake remains very much alive in the chase for the Playoffs. With three games left Lake is still on track to nail down one of Wesco North's three available Playoff slots.