Discover more from The Journal 425
411 for the 425 | Reader-supported local journalism with perspective, edge & authenticity. | Your home for Lake Stevens Vikings football. | Privacy: J425 will never share or sell your data.
Over 2,000 subscribers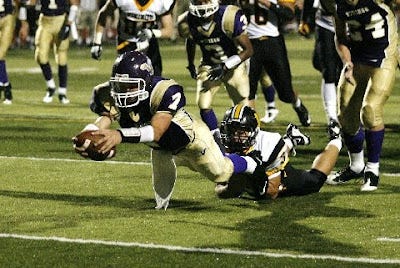 Viking junior QB Jake Nelson dive for a first half touchdown. Photo by Rob Carlson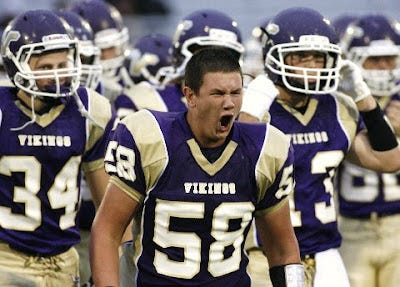 Viking senior Kody Dinh exhorts his teammates. Photo by Rob Carlson.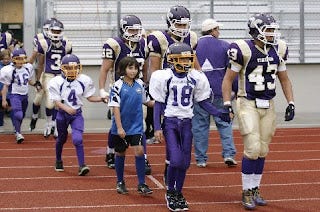 Korey Young leads the Vikings in. Photo by Rob Carlson
VIKINGS CHRISTEN NEW STADIUM WITH COMEBACK 37-30 WIN VS. INGLEMOOR

By Mike Anderton
Senior Writer
Purple and Gold Pigskin/Lake Stevens Journal

Lake Stevens Vikings christened their brand new, state of the art stadium last Friday night with a game as impressive and exciting as the occasion, treating a buzzed, packed house to a 37-30 comeback win against Inglemoor.

Energized and focused, seemingly improving exponentially as the season progresses, Lake three times came from behind against their Viking counterparts from the rugged Kingco 4A League to post an impressive win. Lake finished its non-league slate 3-0, heading into its Wesco North opener at Snohomish this Friday.

Numerous LS Vikings contributed outstanding performances, with junior quarterback Jake Nelson topping the chart with 261 yards passing on 18 of 26 completions (no interceptions) plus two touchdowns. Nelson also rushed for 68 net yards good for another two touchdowns.

Nelson was on target to numerous receivers, namely Brandon Preslar who caught eight passes for 85 yards, Duke Dolphin four for 40 yards, Quincy Carroll three for 89 yards and a touchdown, and Brady Pahukoa two for 44 yards. Colter Swords caught only one pass but it was a beautiful grab in heavy traffic for a three-yard touchdown.

The offensive line did its job too, helping Lake net 148 rushing yards and buying time for Nelson to find his receivers, while the secondary came up with key saves in crucial situations, as did the defensive line and backers when it mattered most.

The dynamic, unpredictable, roller-coaster three-hour game produced 409 net yards for Lake and 406 for Inglemoor, plus 24 first downs for the home team to 19 for the visitors. The officials whistled 17 infractions for 138 penalty yards, evenly distributed between the two teams.

Inglemoor took a 10-0 lead in the first quarter, starting with Rich Gombatz 23-yard field goal following a nine-play drive after the opening kickoff. Mitchell Gonsolus' 29-yard pass to Todd Raynes gave his team a first down on Lake's seven but the ensuing three plays, a run and two passes, produced just a single yard, forcing the field goal.

Nelson responded with four straight completions to a first down on the Inglemoor 27 but that drive fizzled when a snap went awry causing a nine-yard loss. Nelson's third down deep toss to Pahokoa was barely off the latter's fingertips and Lake elected to punt on fourth down, with Inglemoor taking over on its own eight.

Rain was falling fairly heavily at that point and continued throughout the game. But that didn't seem to affect either team's offense.

Case in point: on Inglemoor's first play after receiving the punt Gonsolus connected with Conner Savage who eluded Lake's coverage for a 92-yard touchdown. Gombatz added the PAT to put the visitors ahead 10-0 with 2:15 left in the quarter.

Lake's answer was a 10-play, 74-yard drive engineered by Nelson's passing and his 15-yard tackle-eluding scramble into the end zone. Shawn Morgan's PAT cut the deficit to 10-7, with 10:49 of the second quarter showing on Lake's magnificent new scoreboard.

On the first play following the kickoff Jr. Vi shredded Lake's defense for a field-reversing, 68-yard run to the one yard line. Two plays later Tanner Sellman plowed over for a one-yard TD. 17-7 Inglemoor, 9:27 before halftime.

Shortly after that Savage intercepted Pahokoa's attempt at a halfback pass, tInglemoor aking over on its own 36.

But Lake managed to push Inglemoor back all the way to its own 10, thanks to a pair of penalties and Gonsolus' losing five yards on a broken play, tackled by Gunnar Eklund, Cody Tupen and Anthony Blackie. Lake took over following the punt, on the Inglemoor 49.

Eight plays later Nelson scored from the one to pull Lake to within 17-14 with 4:06 left in the half. Lake did most of the damage on that drive on the ground, with Dolphin and Brandon Belcher alternating rushes, and a pass interference call giving Lake a first down on the Inglemoor 13.

Gasca's interception and 20-yard return to midfield set up Lake for a potential go-ahead score but it subsequently ran out of downs on the Inglemoor 27 with 1:27 left. That was time enough for Inglemoor to tack on a 40-yard Gombatz field goal on the final play from scrimmage before halftime. A Gonsolus to Sellman 16-yard pass was followed by Sellman's 16-yard run, putting Gombratz into range to up Inglemoor's lead to 20-14 at the half.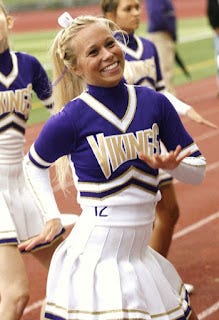 Taylor Krenz
Nelson opened the second half with a play-fake 44-yard run to the Inglemoor 30. Dolphin carried three straight times for a first down on the 19. Nelson completions of 10 and 12 yards to Dolphin and Preslar, respectively, made it first and goal on the three. Two plays later Belcher carried for a one-yard score, and with Morgan's PAT Lake took its first lead of the night, 21-20, at 8:18 of the third quarter.

Inglemoor's next possession ended with a punt after Gonsolus suffered an 11-yard loss on a third down sack by Belcher (assisted by Eklund and Taylor Metzger). On the previous play Belcher had nailed Savage for a three-yard loss on a screen pass reception.

But that defensive stand was wasted when Preslar, attempting to get out of the way of the punted football, had it glance off his foot and was recovered by Inglemoor on the LS Viking 23.

Once again Lake's defense held Inglemoor out of the end zone, so on third and eleven the latter settled for a Gombatz field goal, a 40-yarder which edged his team ahead by 23-21 at the 4:43 mark of the third period.

Lake's answer was a 67-yard, eight-play touchdown drive to re-take the lead. Nelson passes of 24 yards to Carroll and 32 yards to Preslar set up Nelson's third down three-yard pass to Swords, who caught the ball in heavy traffic in the middle of the end zone. Dolphin's sweep to the left, with a nice block by Belcher, netted a two-point conversion and a 29-23 lead for Lake, with 46 ticks left in the third quarter.

Inglemoor fought back with a 72-yard, 14-play touchdown drive of its own, with Gonsolus completing four of five passes, none more important than a fourth-down, three-yard toss to Raynes, barely enough for a first and goal on the one. Sellman's dive on the next play produced the tying touchdown, with Gombatz' PAT propelling Inglemoor back on top by 30-29 with 6:23 left in the game.

Lake overcame a 10-yard holding penalty on its next possession, with Nelson scrambling 11 yards to set up fourth-and-one on the LS 38. Dolphin's eight-yard gain earned the precious first down, and on the next play Nelson hit Carroll in the left flats and the latter sped his way untouched down the sideline for what proved to be the game-winning 54-yard touchdown. Nelson passed to Dolphin for a two-point conversion to give Lake some breathing room at 37-30, with 4:54 left.

Dolphin tipped away Gonsolus' fourth-down pass from its intended receiver to allow Lake to take over on downs on the Inglemoor 32 with 3:38 left, but when Nelson's fourth-and-four pass to a wide-open Preslar sailed over the latter's head (one of Nelson's very few errant tosses) Inglemoor had new life on its own 26 with 1:19 left.

On first down Gonsolus' long downfield bomb to Raynes was brilliantly stripped away by Carroll, preventing a touchdown.

Following another incompletion, it looked like Lake had secured the win on Korey Young's interception near midfield, but Young was cited for pass interference, giving Inglemoor a first down on its own 41, with 57 seconds left.

Savage's diving catch gave Inglemoor another first down, a 24-yard gain to the LS 35. Gonsolus' next pass was intercepted by Preslar on the 12 with 33 seconds left, preserving the watermark victory for the hometown Vikings.

The win, on this historic occasion, gives Lake a major boost in confidence and in momentum heading into Wesco play. Most encouraging is how several Vikings, both on offense and on defense, rose to the occasion to contribute big plays when most needed against a quality team like Inglemoor.

More and more Lake is looking like a team of resilience, versatility, and balance -- though lacking in depth in some areas, thus injuries (which destroyed Lake's previous season) must be avoided, lady luck willing.

Leading Viking tacklers vs. Inglemoor were Young with 11, followed by Gasca, Tupen and Metzger with 9 each, Eklund 7 and Dolphin 6. Contributing QB sacks were Belcher, Eklund and Metzger.