Discover more from The Journal 425
411 for the 425 | Reader-supported local journalism with perspective, edge & authenticity. | Your home for Lake Stevens Vikings football. | Privacy: J425 will never share or sell your data.
Over 2,000 subscribers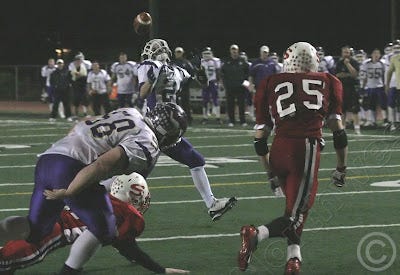 The pitch sailed past RB Bo Dickinson's reach, and the Viking two-point attempt failed, resulting in a 49-48 loss at Snohomish. Rob Carlson/Sportsmedianorthwest

By Mike Anderton
Journal Contributing Writer

More Lake Stevens football records came raining down at Snohomish last Friday, but so did many touchdowns and when the tally was finalized it read Panthers 49, Vikings 48.

The loss locked Lake (4-2 in Wesco North, 6-3 overall) into a second place tie with Snohomish (identical record) and relegated the Vikings to Wesco North's #3 slot in this week's State Playoff opener, at Rogers of Puyallup (8-1, South Puget Sound League co-champs) this Saturday evening.

In a passing versus rushing extravaganza Lake notched 576 total yards and 28 first downs to Snohomish's 369 yards and 24 first downs, but in the end it was three first half Viking turnovers, each of which led directly to Snohomish touchdowns, which spelled the difference.

Turnover number one came on the game's fourth play when a Nick Baker handoff went awry and Snohomish recovered on the Viking 32. Snohomish's first play from there was a Ray Purviance rushing touchdown, virtually untouched. The Panther's PAT kick try was mishandled and resulted in Brandon Preslar intercepting Braden Allen's pass. 6-0 Snohomish, at 10:05 of the first.

Snohomish scored again exactly a minute later when Conner Moe snared a Baker sidelines pass and took it 47 yards to paydirt. Purviance's PAT run was good, giving the Panthers a 14-0 lead.
Neither team punted in the game; the only time either squad was halted was on turnovers, or by the end of a half.

It took Lake just 7 plays to go 82 yards, with Baker completing 4 of 4 passes to 4 different receivers (he also contributed a 12-yard scramble) including a 15-yard touchdown pass to Bo Dickinson, the latter returning to the lineup after being sidelined with injury. Arvid Isaksen's first of 6 for 6 conversion kicks made it 14-7 with 6:04 left in the first.

Snohomish next went 72 yards in 13 plays, all on the ground, with Purviance doing most of the damage, including a 4-yard TD. 21-7, at 11:06 of the second quarter.

Forty-seven seconds later it became 21-14 on 3 straight Baker completions covering 80 yards -- 49 of them to Tyler Bryant, 16 to Dickinson, and a 15-yard TD to Colton Tupen.

Snohomish returned the kickoff 57 yards to the Viking 21 and two plays later (plus a major penalty on Lake) Purviance bulled in from 10 yards out. 28-14, with 9:37 left in the half.

Lake drove 70 yards in 10 plays to a first down on the Panther 7, only to see Baker's pass intercepted by a diving Cameron Woolsey on the one. That extremely untimely and painful turnover launched a 99-yard, 10-play Snohomish drive which culminated in a 20-yard Allen touchdown pass up the middle to an absolutely unguarded Woolsey. It was Snohomish's only pass of the game. 35-14, 1:26 left in the half.

Dickinson returned the kickoff 33 yards to the Viking 39. Baker hit Tupen for a 31-yard gain, followed by three Baker runs of 29, one, and one yard, the latter a touchdown. 35-21, with 25 seconds left in the half.

Snohomish received the second half kickoff and marched 78 yards in 13 plays, with Purviance scoring from the 6. 42-21, with 5 minutes left in the third.

Lake's response was to go 82 yards in 5 plays, including Baker's 12-yard pass to Trevor Riecks, a 35-yarder to Tupen, and Baker's 35-yard touchdown run. 42-28, with 3:46 left in the quarter.

Lake then executed an onside kickoff, with Brennan Frost's kick being recovered by J.J. McCarthy on the Snohomish 49. On the next play, Baker connected with Riecks for a 49-yard touchdown, edging Lake to within 42-35 with 3:32 left in the third.

Lake got the break it needed shortly after that when Dickinson recovered a Snohomish fumble on the Panther 35. Seven plays later, Baker tossed to Riecks for a 3-yard touchdown, tying the game at 42-all, five seconds before the end of the third quarter.

Snohomish re-took the lead on a 57-yard, 13-play drive (Purviance scoring on fourth down from the 2) which ate up all but 4:49 of the game clock. 49-42.

Lake took over on its own 31 after the kickoff, needing to drive 69 yards to stay alive. A pair of Baker third-down scrambles, of 15 and 5 yards, netted Lake a first down on the Panther 32.

On fourth-and-one Baker executed yet another of his miraculous escapes, somehow evading onrushing Panthers to find Tupen open for a 31-yard touchdown.

With 49 seconds left and the game on the line Lake elected to go for a do-or-die two-point conversion. Lake set up its conversion play, but when Coach Tom Tri saw Snohomish's defensive alignment he tried to signal for a time out, but was ignored, so Lake was hastily forced to run the play anyway, a pitch which sailed over Dickinson's head and was recovered by Snohomish deep in the backfield. 49-48 Panthers, and when Frost's attempted onside kick was recovered by the Panthers that's how it ended.

Shaken, angry coaches and players complained bitterly afterwards in the lockerroom of the official's "refusal" to grant Lake that critical time out. "I was screaming for a time out and the official wouldn't even look at me," said Tri. (The Vikings had one timeout remaining).

Wasted in the loss were more school record-setting numbers by Baker. He finished with 21 of 33 completions (plus the pair of interceptions) for 395 yards, breaking his own mark for most passing yards in a game. Furthermore, his scrambling resulted in an additional 127 net yards in 14 carries, for a record-setting 522 yards of total offense. His 7 touchdowns (5 passing, 2 rushing) tied Joe Rogge's half-century-old mark (Rogge ran for 6 touchdowns and passed for a seventh against King's Garden).

Tupen's 10 catches (some of them in heavy traffic) for 195 receiving yards tied Brian Slater's 1982 mark set against Shorewood, and Riecks' two touchdown catches gave him 11 on the season, one more than Dustin Adams had last year and Slater had in 1982.

Lake's 28 first downs tied the team mark (set three times previously) and its 18 first half first downs is believed to be the most Lake has ever accumulated in a half.

Snohomish's Purviance diced up the depleted Viking run defense for 230 net yards in 36 carries, and 5 touchdowns. Overall, Snohomish netted 349 yards in 56 carries to 181 net in 23 carries for the Vikings. Dickinson's return to action saw him net 36 yards in 6 carries.

Lake's total inability to stop Purviance can be at least partly attributed to the absence of linebackers Jacob Huddle and Sean Stickney, who had lead the team in tackles by a wide margin this season with 76 and 75 respectively. Both players have been cleared to play on Saturday against Rogers.

Duke Dolphin, whose injured ankle didn't allow him to play at Snohomish, remains doubtful for next week.