Discover more from The Journal 425
411 for the 425 | Reader-supported local journalism with perspective, edge & authenticity. | Your home for Lake Stevens Vikings football. | Privacy: J425 will never share or sell your data.
Over 2,000 subscribers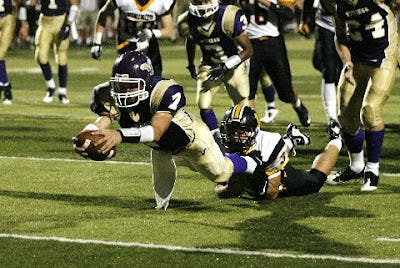 Jake Nelson and the Vikes travel to #2 Curtis tonight as the playoffs begin. A Rob Carlson photo.
Gotta be brief as we've got a looooooong journey to University Place and back ahead. With that said, let's get cracking. We'll be back later with a live blog of the game from Curtis. First, a very brief look at Curtis Vikings.

Know Your Opponent: Curtis Vikings

The Curtis Vikings (9-0) are the champs of the SPSL and currently ranked second in most state 4A polls. Curtis are led by quicksilver multi-purpose threat Rahmel Dockery - he of the 7-foot high jump. Dockery is arguably the best all-around player in the state. According to a recent Scout article, Dockery holds written offers from Oregon State, Washington State and Hawaii among others and has received heavy interest from the UW, Boise State, Oregon and TCU. Scout calls Dockery the best punt returner in the state and ranks him among the top handful of both defensive backs and WRs. Dockery is hardly the only talented player on the side, though, and we'll list a few other Curtis Vikings to watch further on. In the meantime, here's a quick comparison of team stats:

Lake Stevens at Curtis preview

On Offense

Curtis runs a balanced attack and attempts to get the ball to Dockery in a variety of ways. Here's a brief offensive breakdown.

Rush yards/game: 249.3 avg + Pass yards/game  212.3 avg = TOTAL OFF: 461.6 avg

Lake Stevens runs the spread offense but has greatly increased the emphasis on the ground game as the season has progressed, utilizing the talents of Duke Dolphin. QB Jake Nelson had one of the best junior campaigns in Viking history.

Rush yards/game 174.2 avg + Pass yards/game 189.0 avg =  TOTAL OFF: 363.2 avg

On Defense:

Curtis:
Rush yards allowed/game: 77.6 avg + Pass yards allowed/game: 71.1 avg = TOTAL D 148.7 avg

Lake:
Rush yards/game 114.6 avg + Pass yards/game 124.7 avg = TOTAL D 239.2 avg

Turnover Margin: Curtis +4, Lake -6 (13 fumbles lost)

Curtis Players to watch:

Curtis WR/KR/DB Rahmel Dockery - The 5'9 dynamo is truly a multi-purpose threat. He carries the ball about four times a game and is averaging nearly 20 yards per carry, and has three rushing touchdowns. Dockery also hauls in an additional five or six receptions per game at 20 yards/catch, with 11 TD receptions. Finally, Dockery has thrown the ball three times resulting in two TDs - one of them 77 yards in length. Dockery also returns punts and kicks and starts at CB.

Curtis WR/S CJ Langlow - Langlow serves as Dockery's counterpart and makes teams pay when they tilt the coverage. Langlow lit up playoff-bound Beamer with three TDs last week, and hauled in 10 TD receptions on the season.

Curtis RB Tyler Montague - The Vikings have four players who totaled 40 or more carries this season but Montague's production has increased as the season progressed and he currently stands as the number one threat out of the Curtis backfield. Montague totaled 556 yards at nearly seven yards per carry, and finished the season against Beamer with a spectacular 4 TD, 170 yard rushing performance on just 12 carries.

The Pick:

As we all know, Lake has been brutal on the road against SPSL opponents. Viking efforts have been marred by turnovers and mental mistakes, and the last two games were pretty much over after the Vikes fumbled away the opening kick. Keep in mind that neither of the last two opponents were undefeated or ranked as high as Curtis, and neither had a player of Dockery's level.

On the plus side, Lake has more talent and size then any of the previous squads. 6'3 junior QB Jake Nelson is a rising college prospect with a big time arm and game breaking running ability. Nelson was extremely efficient as the season progressed, averaging 200 yards through the air and another 60 on the ground. Nelson stepped up when the season was on the line last week against Mariner and threw three second half TDs (with no INTs) to lead the Vikings past Mariner and into the playoffs. Further, Nelson started last season at Bethel, and knows what to expect from a SPSL opponent....Senior RB Duke Dolphin has been a machine of late. it took Duke a game or two to adjust to game speed after missing 15 months of playing time with a knee injury, but as the season went on, Dolphin emerged as the top all around player in Wesco North, rushing for over 150 yards/game and averaging another 60 yards/game in Wesco play. Dolphin will handle kick and punt returns, as well as handling the punting chores (and making sure to kick away from Dockery). With Dolphin in control on special teams, the Vikes may be able to rectify the turnover issues that plagued previous squads...Mammoth senior OT/DL Gunnar Eklund has improved as the season progressed, and he is sporting an intimidating, leaned-out physique. 6'6 285 with a flat stomach and broad shoulders, Eklund has progressed from former skill player to stand out lineman and leader. He dominated the line of scrimmage against Uw-bound Dexter Charles vs Stanwood, and his earth-shaking hits on All State prospect KaiVairae Russell of Mariner last week led to a sub par performance from the explosive back....The Vikings also have a go to receiver in all time leading pass catcher Brandon Preslar. Nelson has looked to Preslar to control the middle of the field, but Preslar - who was the Vikes' best performer at Bethel last year - may be looking to have a more explosive performance tonight.

Basically, Lake has a very slim margin of error. It is POSSIBLE for Lake to win, it's just unlikely. A Viking win would look something like this: a breakout performance from all of the above listed players, a +3 turnover margin, and a game plan that holds Dockery to less than 150 total yards. If Tom Tri and his staff is able to get the most out of their players, the season may have some more fixtures. If not, it will be Curtis' night. Either way, I predict a Vikings win. Honestly, though, all signs point towards a Curtis win, and there's no shame in that - if Lake leaves it all on the field and plays with heart and honor. That said, I'm predicting a 34-24 Curtis win tonight. 


Links:


Doug Pacey of TNT has this weekend's big games on lockdown, and provides a pick and preview for each. He too likes the Vikings to win, wink wink...Mike Cane's readers say Jake Nelson is the best QB in the area in an online poll, and Cane passes on good info on M-P, Arlington and Glacier Peak...The Herald's panel of "experts" submit their picks for the week ten games here...For those looking for more Curtis Viking info, here's an in-depth piece from the Tacoma Weekly on Dockery...and here's a TNT piece on Curtis earning the SPSL crown.

Game info:

Kickoff is at 7:30 pm at Curtis High School in University Place. Leave now.