Discover more from The Journal 425
411 for the 425 | Reader-supported local journalism with perspective, edge & authenticity. | Your home for Lake Stevens Vikings football. | Privacy: J425 will never share or sell your data.
Over 2,000 subscribers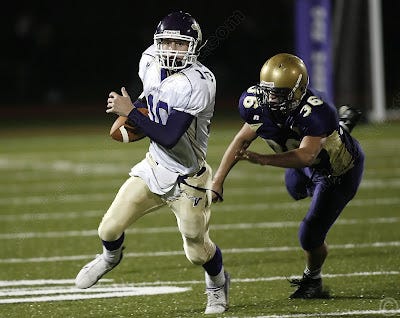 QB Nick Baker evades Wildcat OLB Jake Rouser last year at Oak Harbor. The Vikings raced out to an early 14-0 lead, but the undefeated Wildcats surged back for the 24-21 victory, avenging the sole blemish on their 2006 season - a loss at Lake Stevens. Rob Carlson/Sportsmedianorthwest.com


The Oak Harbor Wildcats lost just one conference game over the last two seasons combined, and hadn't lost at home in over two years coming into the 2008 season. However, they lost their coach Dave Ward (2007 Wesco Coach of the Year) to Archbishop Murphy and the following starters to graduation or transfer after the 2007 campaign:

QB Johnny Encinas (First Team All Wesco),
WR Roderick Rumble (First Team All Wesco),
RB Chris Valencia (Second Team All Wesco),
TE/OLB Jake Rouser (First Team All Wesco on offense and defense),
OT Tyler Elliot (First Team All Wesco offense, second team defense),
WR Roderick Rumble (First Team All Wesco),
WR Mike Bell (Second Team All Wesco).

But still, expectation were high, as Wesco watchers have come to expect the Wildcats to reload instead of rebuilding. That just hasn't been the case this season, as the 'Cats have been inconsistent under first year Head Coach Jay Turner.

The 2008 season began with a hard fought home loss to Cascade, but the Wildcats rebounded with a close win at their road and conference opener in Monroe. A seven point home loss to Snohomish followed, and after a non-conference win over Mt. Vernon, Oak Harbor was shocked at Stanwood 22-10. Again, the Wildcats rebounded last week, squeaking out another league victory at home over reeling Arlington.

All of that is to say that the Wildcats are capable of winning any week (or maybe every other week?) and that they are still in the playoff picture. More accurately, the Wildcats will be fighting for their playoff lives Friday - they currently stand at 2-2 in conference play, good for fourth place, and a loss would eliminate them from postseason contention. This should be no small motivator.

Oak Harbor Wildcat Players to Watch:

QB James Jordan (JR, 6'0, 160) - The long-legged and rail thin QB is dangerous on the run and possesses a strong if somewhat inaccurate arm (27.8% completion percentage).

RB Donovan Hunt (JR, 6'0, 175) - Hunt looks just as fast as Monroe's All League back Austin Bray that the Vikes faced last week, if not a tick faster. Hunt does not dawdle around in the back field - he hits the hole and gets vertical in a hurry. Also doubles as a very credible CB.

H-back/LB Stephen Lewis (SR, 6'0, 200) - Lewis is a banger, and maybe the Wildcats best all-around player. The Wildcats will look to get him the ball on the quick swing and the occasional fly sweep. He is a player the Viking offensive line will have to account for from his weakside linebacker position as well - he sacked Arlington QB Jake Parduhn three times last week.

When the Wildcats have the ball:

The Wildcats operate out of the shotgun and run a lot of gun twins and gun trips sets. The Wildcats also run a little flexbone type set, where QB James Jordan scoots up and takes a short shotgun with two backs lined up behind him. On the ground, they like to trap, counter trap, and run QB blast out of four wide sets. When passing, Turner prefers to keep it simple, with a bevy of fast screens, bubble screens and short ins and sticks.

The Oak Harbor offense by the numbers:
59% - percentage of pass attempts of seven yards or less
42% - percentage of the above passes that were screens of some sort
28% - season pass completion percentage for Oak Harbor QB
57% - percent of the time Oak Harbor runs on first down
14.3 - average points per game scored by Oak Harbor

When Oak Harbor is on defense:

Oak Harbor is a 3-4 base defense that likes to play cover four over the top (meaning that two safeties and two cornerbacks divide the field in fourths). The main concern for the secondary in the cover four is guarding against the deep pass, with the CB's backpedalling for depth and trying to eliminate the big gain.

Despite the fact that they feature just three down linemen in the base set, the Wildcats bring a total of four or five defenders at the QB on nearly every play. The pressure is varied - sometimes they stunt, sometimes they send an extra man around the edge.

Oak Harbor/Lake Stevens similar opponents:

1. Monroe - Oak Harbor won 28-20 @ Monroe, Lake Stevens won 52-13 @ Monroe
The Wildcats played Monroe in week two and held RB Austin Bray to under three yards per carry and one touchdown. QB Bryan Sonneveldt was 13-26 for 198 yards and two touchdowns, including a 22 yard strike to WR Connor Shelford. On offense, Oak Harbor leaned on Hunt and Lewis - each had two rushing touchdowns, including a 59-yarder from Lewis.

Lake Stevens completely dominated Monroe in every facet and rested the starters in the second half. QB Nick Baker picked apart the secondary for three first half TD passes, and the Viking running game punched in four rushing TD's as well.

2. Arlington - Oak Harbor won 3-0 @ home, LS won 45-23 @ Arlington
In a strange and windy game last week, the Wildcats scored a 25-yard FG on the first drive, and the teams played to a scoreless tie thereafter. Oak Harbor managed just 189 total yards (the Vikings average nearly 450), but held Arlington under 150.

At Arlington's Homecoming, the Vikings came out stale and were down 14-0 three minutes in, before going on a 35-3 run to end the half, and effectively the game. Nick Baker was 19/22 passing for 346 yards and three touchdowns, and the Viking defense sacked Jake Parduhn 11 times.

3. Stanwood - Oak Harbor lost @ Stanwood 10-22, LS won @ home 35-0
The Spartans beat up Oak Harbor on the ground, rushing for 278 yards and two touchdowns. Sophomore Devon Woolridge had a breakout game, rushing 14 times for 143 yards. QB Michael McCune was 5/6 for 75 yards and a touchdown.

For the Vikes, Bo Dickinson scored on an 80-yard punt return (and had a 68 yard punt return TD called back) and a three yard run before fracturing his back and leaving the game. Nick Baker was 21-36 for 316 yards and three TD's. The Vikings held Devon Woolridge to just 11 yards rushing, as the Spartans turned to the pass after falling behind big. QB Michael McCune struggled through a 5-20 passing, 2 INT performance.

Miscellaneous notes: Lake RB/S Bo Dickinson may return for the game tonight...if Lake wins its last two games, they will claim the Wesco North two seed and host a first round playoff game. If Oak Harbor wins, they will still need to win at Marysville-Pilchuck next week and the Vikings to lose at Snohomish in order to earn a playoff berth.

We'll be back with a game preview and pick on Friday...