Discover more from The Journal 425
411 for the 425 | Reader-supported local journalism with perspective, edge & authenticity. | Your home for Lake Stevens Vikings football. | Privacy: J425 will never share or sell your data.
Over 2,000 subscribers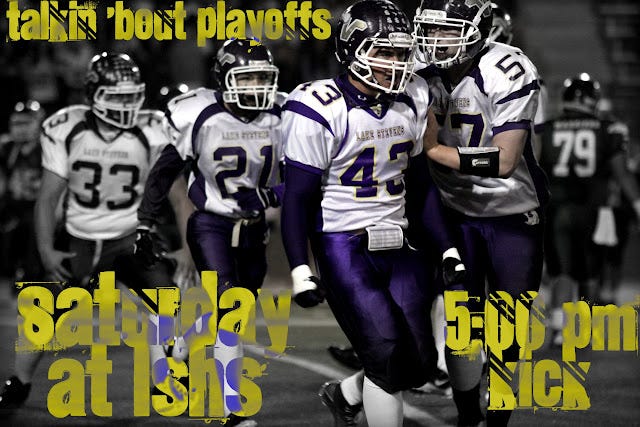 Just a reminder that the Vikings begin the path to the Tacoma Dome by hosting a home playoff game Saturday, 5:00 pm at Lake Stevens Stadium. With a win, the Vikes will enter the State bracket and host the winner of Puyallup at Olympia.

Saturday, Lake Stevens welcomes the 3-6 Heritage Timberwolves to LSHS. The Vikings are expecting a capacity plus crowd, so it is advised to get there early.

We'll have a detailed look at the Heritage Timberwolves of the Greater St. Helens league as gameday approaches, but in the meantime here is some basic information on the Vikes' 4A opponent. Heritage is a part of the Evergreen School District and qualified via the third seed in the GSHL 4A conference.

We will have a breakdown of their strengths, weaknesses and players to watch tomorrow. Hit the jump for their 2011 roster and results.




2011 Heritage High
Greater St. Helens League 4A
2011 Results  (score, record, conf record)
Sept. 2at IssaquahL 48-00-1  0-0Sept. 9Mark MorrisW 36-141-1  0-0
Sept. 23at Mountain ViewL 45-31-3  0-1
Sept. 30Grant ORL 45-01-4  0-1
Oct. 7at Union*L 41-101-5  0-2
Oct. 14CamasL 59-61-6  0-2
Oct. 21Battle Ground*W 21-20 OT2-6  1-2
Oct. 28at Evergreen*W 34-123-6  2-2





Heritage Roster 
Head Coach ~ Jack Hathaway
Assistant Coaches
Jack Hathaway - D. Coordinator, Wayne Storer - O. Coordinator, Brad Bingham, Rob Gardiner, David Jones, Rob Lutz, Ben Matthias, Kevin Peterson, Erick Suksdorf, Paul Swingle, Tyler York, Peter Zukowski
2011 Heritage Timberwolves Roster
#NAMECLASSHTWTPOS1Terry T-Wolf126-6300MAS2Marieese Ross125-10155WR/DB3Rajheem Carrie125-8147RB/DB4Timothy Hergert116-1146WR/DB5Joshua Hanson116-0160WR/DB6Austin Fuller126-3170WR/DB7Daniil Karpyuk116-0161WR/DB8Joseph Cooper126-0193QB/LB10Loren Standiford106-0165QB/DB11Spencer Jacoby115-11160WR/DB12Austin Wolford116-0155WR/DB13Chris Caldwell116-0185QB/DB15Jason Forwood105-11165WR/DB16Kristopher Johnson105-11122WR/DB19Nate Morosi126-0190WR/DB20Jacob Cooper105-9145WR/DB21Cody Calhoon105-7175RB/DL22Michael Quintana125-10170RB/DB23Tanner Ulsh125-9163RB/DB24Gage Boyce125-8175RB/LB25Nate Jenkins125-10185RB/LB26Victor Duran105-6150WR/DB27Brandon Burns115-8180RB/DL28Mitchell Heng115-7133WR/DB29Anthony Hergert125-9160WR/DB31Keonardo King105-3105WR/DB32Jay Allen105-8155RB/LB37Cody O'Hara105-7170RB/LB41Aaren Morring105-9175RB/LB42Houston Dillard126-1220RB/LB48Tristan Sandoval105-8143RB/LB50Matthew Kleven126-0190OL/DL51Cherno Sowe126-5252OL/DL54Greg Armstron105-8181OL/DL55Antonio Pulido106-0225OL/DL56Jeremy Kolbe106-3173OL/DL59Nate Hughes105-9224OL/DL61George Word105-11261OL/DL64Joshua Sharp116-1208OL/DL65Tristan Bridges95-10210OL/DL67Ian Overton126-4270OL/DL68Joaquin Caliz105-6175OL/DL72Derek Schuster125-6218OL/DL73Chris Falkenhagen126-1210OL/DL74Jalen Kelly105-10220OL/DL75Noah Black106-2235OL/DL76Jesse Graham106-2300OL/DL77Dyer Micah115-9270OL/DL79James Russel116-2240OL/DL81E'Lon Mack106-1170WR/DB85Karell Abdul105-7115WR/DB86James Breen105-9140WR/DB87Hayden Conlee125-8154WR/LB88Ruben Otero105-8148WR/DB89Matthew Menser105-10126WR/DB90Jon Karrick106-0185OL/DL91Blake Delawder115-7217OL/DL