Emergency - I Crashed the Drone!!! Plz Help Me Replace It!!! 😭
We're looking for up five supporters interested in getting J425 flying again… via a one-time donation that unlocks additional access & original exclusive swag
UPDATE 7:03: We've got our first J425 AIR 5 Founder!!! Thanks so much to the LS Chamber and Exec Director Matt. We are so overdue to join. 🫡 .
LAKE STEVENS — 😔 I messed up and crashed my drone (a gift from my mom and aunts) while working on a story today 😔.
If you've been here since the beginning you know I've never asked for anything in the way of funding, I dont sell anything or take a salary …and I dont even like using the Paywall. I don't want ppl to have to pay. At all.
But today I have to ask for help. That little drone is very important. So I'm hoping there's several of you out there who'd like to get a little more involved. But if you can't? No problem, no worries, nothing is ever required.
I've put together a one-time offer for up to FIVE J425 supporters who'd like to help — it's detailed below the divider so check it out. In short, we're looking for up to five $250 flat fee donations.
We have five $250 chairs to fill in the J425 AIR 5 Founders Club — these five founders will sponsor our drone + receive a limited edition commemorative 36" x 36" J425 aerial photography print, signed and numbered out of 5, + a 24 month subscription, + early access to swag. Most of all you'll get us flying again.
If that's something you're interested in, hit the subscribe button below and choose the AIR FIVE option and/or text me at425.953.6762 for other options (Cash App etc)
Thanks to all J425 readers for your support and readership I love each of you regardless of your support level. Cheers. - Kev
---
The J425 Air Five Founders Club
The Air Five Founders Club is a two year flat-fee $250 offer available to the first 5 supporters who wish to underwrite the new drone. These Founders fund our aerial photography.
- AIR 5 Founders get a special 24 month J425 subscription and
- An original 36" x 36" signed + numbered commemorative aerial photography print (out of 5). See below. These are very cool.
You'll also be added to a permanent Founders Club list that will receive first run at limited J425 swag. (
Our upcoming Carhartt x Supreme hoodies and hats are 🔥 and limited! Yes, I'm for real.)
---
Two ways to join the Air 5 and help us fly again:
1. Hit the Subscribe button and choose the $250 Air 5 Founders Club option.
or if you prefer you can
2. Cash App $250 to $J425Live. Just note your email for me.
Offer is limited to FIVE but drone will be replaced at three, next two will fund batteries and lenses.
---
THE PRINTS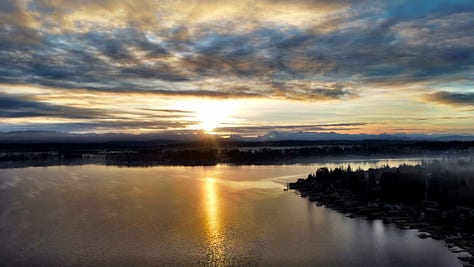 I'll commission five numbered 36"x 36" prints of our spectacular aerial photography of Lake Stevens custom procured through Mixtiles (see below).
Each print is numbered out of five and inscribed with the Air 5 Commemoration. See below for example of Mixtile format.