Discover more from The Journal 425
411 for the 425 | Reader-supported local journalism with perspective, edge & authenticity. | Your home for Lake Stevens Vikings football. | Privacy: J425 will never share or sell your data.
Over 2,000 subscribers
DOWN BUT NOT OUT -- VIKING FOOTBALL OPENER AT MARINER SEES COACH & TEAM RALLY (36-34 WIN)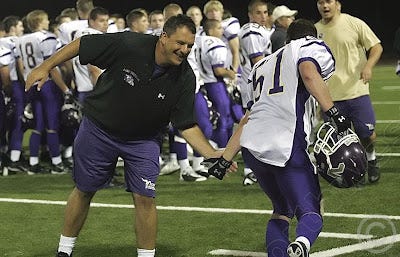 By Mike Anderton/Journal Contributing Writer

In an emotionally harrowing opener of its 2008 football season at Mariner on Friday, Lake Stevens saw Coach Kyle Bigham collapse on the sidelines from a heart attack during the national anthem. After 45 minutes of intensive CPR, during which time "Coach Bigs" hovered near death, the teams took the field and Lake, seemingly stunned, fell behind 21-0 early in the second quarter.

That's when Lake launched one of its biggest rallies in recent memory, a 33-point run and a hang-on-at-the-end defensive stand which produced a 36-34 victory. Far more important than that, Coach Bigham (30, in his third year as a Viking line coach) as of the time of this writing (Saturday morning) was reported to be conscious and in "stable" condition at Providence Hospital, though not yet off the critical list.

Bigham's survival is directly linked to the instantaneous CPR administrated by his fellow coaches, a full five minutes before professional emergency personnel arrived.

At first, the game seemed almost secondary, and when it finally began, Mariner took command, cruising to an 11-play, 67-yard touchdown drive on its opening possession. Key to the drive was quarterback A.J. Van Wieringen completions of 19 and 20 yards, the latter a touchdown to wide receiver Tevin Dillon. Jacob Rynkiewiez' added the PAT kick. 7-0, at 6:29 of the quarter.

Lake's first possession ended with Anthony McDonald's interception of a tipped Nick Baker pass, returned 10 yards to the Viking 40. Two plays later, Trevor Riecks sacked Van Wieringen on the 45, but on the next play the latter completed a 41-yard pass to Adrien Black, setting up Adam Parker's 2-yard run two plays later. 14-0, at 2:26 of the first quarter.
Lake went 3-and-out in its next possession, Mariner returning the punt to the Viking 41. Five plays later Van Wieringen hit Dillon with a 25-yard touchdown pass. 21-0, at 11:06 of the second quarter.
Bo Dickinson fielded the subsequent kickoff just shy of his end zone, and, shaking off several tackles up the middle, took it all the way for a 99-yard touchdown, providing the jolting jump-start Lake needed to finally launch its season. Arvid Isaksen's PAT kick made it 21-7, at 10:47 of the quarter.

Viking linebacker Jacob Huddle's sack of Van Wieringen on Mariner's next possession led to Lake's receiving a punt on its own 43. Dickinson carried for 12 yards, Baker scrambled for another 12, and 3 plays later Dickinson took a direct snap and scampered 24 yards to the two (it appeared he'd scored on the play but was ruled out of bounds).

An offsides penalty moved the ball back to the 7, but Baker found a wide-open Colton Tupen for a 7-yard touchdown toss on the next play. 21-14, at 6:24 of the quarter.

Eric Huswick's tackle of a Mariner back for a 4-yard loss led to another 3-and-out, Lake taking possession on its own 21 following the Marauder punt. On Lake's second play, Baker's pass to Riecks near mid-field saw Riecks bounce off two Marauder defenders and lope home free for a 75-yard touchdown. Isaksen's PAT tied it at 21-21, 3:16 before halftime.

Mariner's fourth play after that saw Dickinson scoop up a fumble and run it back 32 yards for a Viking touchdown. The PAT sailed wide, leaving the score at 27-21 Lake, at 1:34 of the quarter.

Huswick's recovery of a Mariner fumble on the latter's 29 two plays later might have led to yet another Viking score before halftime, but a sack of Baker prevented that.

Dickinson returned the second half kickoff 19 yards to the Viking 45, the beginning of a 6-play touchdown drive sparked by Baker-to-Huswick passes of 9 and 20 yards, a 10-yard Baker run, and a brilliant tackle-avoiding scramble by Baker before hitting Tupen with a 4-yard third-down touchdown pass. Baker's PAT 2-point conversion pass to Riecks looked good from the press box (edit - and from the sideline about 10 feet from the play! - KH) but was ruled a "trap" and not a catch by the officials. 33-21, 10:03 of the quarter.

Mariner finally got its offense back on track after that, executing an 11-play 76-yard touchdown drive, all on the ground, with Black's 17-yard reverse providing the score. The PAT kick was missed. 33-27, at 4:17 of the third quarter.

Lake's final score of the game came midway through the fourth quarter, and it provided what proved to be the winning points. Baker completed 5 straight passes after Lake started on its own 20. Three of those were to Tupen, including one for 27 yards. Dickinson reversed his field for a nifty 13-yard gain to the Marauder 20, followed by Baker's 12-yard pass to Riecks for first-and-goal on the 8. Two straight incompletions and Baker's 4-yard run led to Isaksen's 21-yard field goal. 36-27, with 6:01 left in the game.

Mariner fumbled the ensuing kickoff, but recovered on its 10-yard line. Van Wieringen rallied his team to three first downs, reaching the 50, but his 13-yard loss on a fumble pushed Mariner back to its own 37. A hook-and-lateral attempt was ruled incomplete near midfield, and Lake took over on downs on the Marauder 45 with 3:07 remaining.

On Lake's first play from there Dickinson gained 13 yards but fumbled, Mariner recovering on its own 29, with 2:57 left. Van Wieringen completed passes of 13, 43 and 15 yards to Dillon, Dominique Moore, and Dillon respectively, the latter for a touchdown. 36-34, with 1:53 left.

Mariner's onside kick failed to travel the necessary 10 yards, and was recovered by Lake's Duke Dolphin on the Marauder 47. Two plays later a 12-yard completed pass to Tupen was fumbled away on the Mariner 35, giving the home team one last chance with 1:02 left. A procedure penalty cost Mariner 5 yards, before Van Wieringen's two short completions set up fourth-and-two, where his completion to Stefan Doerscher near the left sideline would have given the latter plenty of room to run for the first down, had not Tupen made an ankle-grabbing tackle to haul the receiver down for a one-yard loss, 27 seconds from the end.

The stirring non-league win gives Lake, picked by the coaches in the annual preseason poll to finish second to Snohomish in Wesco North, a great start to the season.

Head Coach Tom Tri, who led the team in an emotional pre-game prayer for Coach Bigham's recovery, has unveiled a "new look" no-huddle, "spread" offense designed to highlight the team's skill-position speed and talent. Barring injuries to key personnel, and if the defense improves as the season progresses, this could be an extremely entertaining team to watch, fun for its players and its fans.

Stats: Dickinson finished with 87 net yards in 9 carries... Mariner, with 49 carries to Lake's 18, still managed only a 138-113 edge in rushing yards... Baker, who last year completed 55% of his passes for 1353 yards and 12 touchdowns, was 14 of 22 against Mariner, for 191 yards, with one interception (Mariner was 14 of 19 for 223 yards)... Tupen caught 7 passes for 70 yards and 2 touchdowns, while Riecks' 3 catches covered 86 yards and a touchdown... The Marauders netted 21 first downs to Lake's 13... The defense, stung at the outset, made key stops with the game's outcome in the balance... Leading tackler for the Vikings was Huddle with 17, followed by Sean Stickney with 13, plus 11 each by Riecks, Chameron Lackey and Chase Crowley, and 10 each by Dylan Youngblood and Tupen... Dickinson, playing an all-around great game, added 8... Vikings travel to brand-new Glacier Peak High School in Snohomish this Friday for another non-league tilt.