Discover more from The Journal 425
411 for the 425 | Reader-supported local journalism with perspective, edge & authenticity. | Your home for Lake Stevens Vikings football. | Privacy: J425 will never share or sell your data.
Over 2,000 subscribers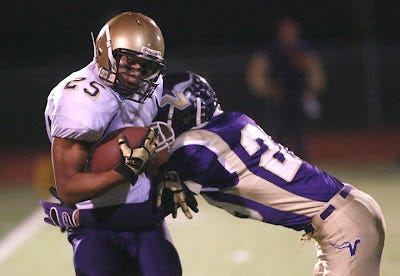 OLB Chase Crowley powers through Oak Harbor RB Donovan Hunt. Rob Carlson/Sports Media Northwest
We're more than halfway through our countdown, and we've reached our first linebacker, senior-to-be outside linebacker Chase Crowley.
Crowley started every game last season at OLB in the Vikings base 3-4 defense. Making up for a lack of prototypical size (listed at 5'11, 185) Crowley terrorized opposing offenses with speed, agility and a motor that didn't quit.
A sure tackler, Crowley finished with 51 tackles on the season, which makes him the Vikes' second-leading returning tackler. Crowley also showd an aptitude for rushing the passer, and his four sacks rank him as the top returning pass rusher.
Crowley came up big in the big games. When the Vikes hit the road to take on rival Arlington on the then-undefeated Eagle's Homecoming, Crolwey turned up the pressure on All Wesco (second team) QB Jake Parduhn, registering two sacks and six tackles.
Weeks later, the Vikes got another huge performance on Senior Night against Oak Harbor. Crowley led the Viking D with eight tackles and two more sacks, helping to clinch a playoff berth.
For the purposes of this list, the only factor not in Crowley's favor is a lack of offensive contribution. I am not sure what plans if any the coaching staff has for using Crowley on offense. If he were a two-way player coming into 2009 with results on the offensive side mirroring his defensive output, he surely would've been top three.
As it is, we expect the probably captain to continue to lead by example with his terrific work ethic and on-field determination. An All Wesco season is likely, and Crowley will challenge for the team lead in sacks and tackles.
Previously: 10. PK Arvid Isaksen; 9. C Kalena Richardson; 8. DE Aaron Britton; 7A. WR/RB/DB Tyler Reside; 7B. WR/RB/DB Brennan Frost; 6. OG/DT Jordan Eckstrom.