Discover more from The Journal 425
411 for the 425 | Reader-supported local journalism with perspective, edge & authenticity. | Your home for Lake Stevens Vikings football. | Privacy: J425 will never share or sell your data.
Over 2,000 subscribers
Another SR 9 Closure: Massive New Roundabout Built at Frontier Village
J425 has the aerial video, photos, closure dates and project details.
SR 9 - SR 204 Intersection Improvements
LAKE STEVENS — A massive demolition, earth-moving and paving project is underway at the intersection of SR 9 and SR 204 as the busy Frontier Village intersection/signal is replaced with a massive roundabout. 
Both directions of SR 9 closed Wednesday and will remain closed until June 28. The highway is shut between Lundeen Parkway and SR 204 for the roundabout construction at the Frontier Village intersection.
A signed detour directs traffic to Lundeen Parkway and Market Place. Business access remains open during construction.
---
Project overview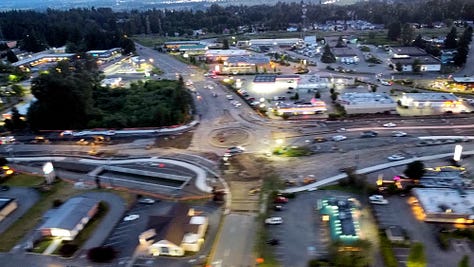 WSDOT  is overhauling the intersection of SR 9 and SR 204 in Lake Stevens by adding four roundabouts and widening SR 9 to two lanes in each direction immediately south of the intersection. (See video below for aerial shots of current construction)
WSDOT says these improvements aim to better manage congestion, provide better access to area businesses, and provide more travel options with improved connections for pedestrians, bicyclists, transit users and drivers.
---
Timeline: July 2016 - December 2023 
Project status: The final stage of construction for this project is now underway. 
Cost: $69 Million  
What to expect: This summer contractor crews working for WSDOT are building the last two new roundabouts at and around the SR 9 and SR 204 intersection.
Previously, between June 2 and June 8, crews built a new multilane roundabout at SR 9 and Vernon Road. 
---
WSDOT advises that if you are traveling through the area during the closure, plan on using alternate routes.
If you're traveling locally, avoid unnecessary trips through the area, carpool to reduce the number of vehicles adding to congestion, delay your trip or plan to travel at off-peak times, and plan for extra travel time.
---
Chopper J425 Aerial Footage
This construction follows work in October 2022 that rebuilt the existing roundabout at Vernon Road and North Davies Road during an extended weekend closure. Crews also constructed a new roundabout on 91st Avenue Northeast and Vernon Road.
The project is expected to be completed by fall 2023. WSDOT reminds us that construction timeline is subject to change and is weather dependent.
Background
The SR 9/SR 204 intersection in Lake Stevens experiences heavy congestion weekdays and weekends, which affects Snohomish County travelers, as well as regional and freight traffic. Highway users also experience backups and delays while trying to access the many businesses that surround this busy intersection.  
In 2016, WSDOT formed a stakeholder advisory group to advise on developing and evaluating improvement options. 
The group consisted of elected leaders and representatives from the city of Lake Stevens, Snohomish County, area businesses and transit providers. 
The group members reviewed multiple design options which were presented to the public at open houses in 2017. 
After hearing public feedback, the group agreed on a preliminary preferred alternative to improve the intersection. 
However, during design, the project team looked at underground subsurface conditions and discovered the groundwater just 9 feet below the surface. This meant the cost, materials and overall feasibility of the preferred alternative needed further review.  
Re-evaluating the design in 2018, the team settled on a widening option and a roundabout option as finalists.
The team decided the revised roundabout option provided better overall benefits than widening or the original alternative, which called for rebuilding SR 9 to travel underneath SR 204. 
Previously on J425:
https://www.thejournal425.com/p/roundabout-major-closures-announced