Discover more from The Journal 425
411 for the 425 | Reader-supported local journalism with perspective, edge & authenticity. | Your home for Lake Stevens Vikings football. | Privacy: J425 will never share or sell your data.
Over 2,000 subscribers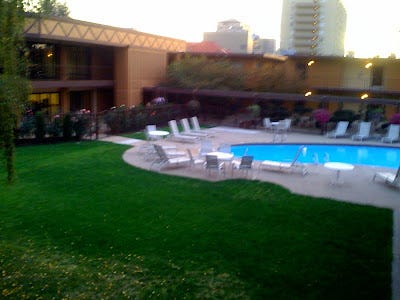 The view from the Viking Suite at the Yakima Red Lion.

When we're not ducking stray bullets, we'll be attending the Washington Newspaper Publishers Association annual conference and awards banquet.

A couple notes to pass along:

- The Seattle Times blogs on Coach Biggs and Mariner's fundraiser on his behalf.

- The Times also asks readers to submit their biggest surprises of the high football season thus far. Nick Baker's spectacular season is mentioned in the comments thread.

Just a reminder that the Lake Stevens - Jackson game will be available this weekend on Comcast On Demand under High School Sports.

I'll check in later tonight (unless a bottle of tequila gets in my way!) and we'll have our game preview and pick up tomorrow at the latest.