Discover more from The Journal 425
411 for the 425 | Reader-supported local journalism with perspective, edge & authenticity. | Your home for Lake Stevens Vikings football. | Privacy: J425 will never share or sell your data.
Over 2,000 subscribers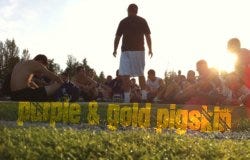 (Editor's note: the text is from an email I sent to a few folks)
We finally relaunched our site, just four days ago. Purpleandgoldpigskin.com. Thanks for all of the early support:
Pageviews today

608

Pageviews yesterday

541

Pageviews last month (prior to launch)

6,230

Pageviews all time history

171,731
About the new site:
The site contains full searchable archives back to 2005 and over 850 stories. It is through this site that we are publishing Mike's game stories and stats, and then forwarding to other outlets as well. We have built dedicated pages for Mike's Game Stories and for his stats. 
Also:
 - The site provides a mobile device-friendly Viking Gameday Blog through which we post Friday night game coverage: a combination of video, audio and written updates. For example, as soon as the Vikings score a TD, I ususally have an HD video clip up within a minute, and people can watch it on their phones. Many people do this in the stands, and still others pretty much across the world. I know for sure of players' relatives in Asia and Europe who follow the games in this manner)
 - In addition, we have a full dedicated repository for past and present highlights, game and season stats, and season and career records. 
 - The site has an active twitter account I maintain (@wesco4a) that basically aggregates coverage and provides links to anything posted on the site or elsewhere. Other "real" journalists follow Viking coverage through twitter quite a bit. Mason Kelley of the Times and Doug Pacey of TNT for example. 
In addition, we have a general "recruiting info" page already up, and have bookmarked pages for individual players that are experiencing recruiting interest. I can easily post all of their relevant material and provide a hidden (or public) personal address like www.purpleandgoldpigskin.com/Gasca at the request of a parent, coach or player. I still have time and interest in helping any kids with this as well.