Discover more from The Journal 425
411 for the 425 | Reader-supported local journalism with perspective, edge & authenticity. | Your home for Lake Stevens Vikings football. | Privacy: J425 will never share or sell your data.
Over 2,000 subscribers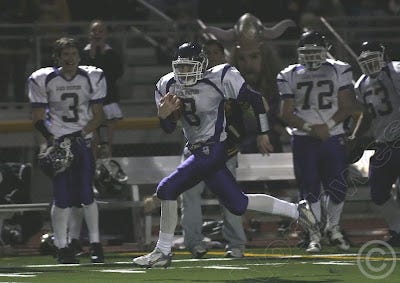 Senior Chameron Lackey returns as the odds-on favorite at starting QB for the 2009 Vikings. Above, Lackey races 69 yards for a TD against Monroe while subbing for Nick Baker at QB. Rob Carlson/Sportsmedianorthwest.com

I find that I'm having a hard time covering any current sports from my office in the State Capitol, so I thought I'd go back to the sport I love best: football.

With Spring practices approaching quicker than you might think, I thought we'd start to take a look at a potential 2009 two-deep depth chart. This will be an ongoing series where we look at different position groups each post.

I give the following disclaimer: this is only my personal opinion, and I am sure that I will screw up and forget somebody. I also welcome commenters to make suggestions or corrections.

With that said, let's take a look at the offense first, starting with the backfield (classes listed as of '09-'10) :

Quarterback:

QB1 Chameron Lackey 2. Bryson Daggett/Jake Nelson/Sage Richardson

A difficult position to call, but the one that really sets into motion the rest of the lineup. Senior Chameron Lackey is the only returner at the position with Varsity experience, but Lackey was limited to a handful of snaps in mop-up action. He showed flashes of brilliance, including a long touchdown scamper against Monroe.

Lackey definitely has the brains and work ethic to command the intricate offensive schemes, but he is also a multi-talented player who will be leaned on in defense as well. I should also mention that there were whispers that Lackey may be considering a transfer to Bothell, but he put those rumors to rest when I interviewed him here. If Tri decides to go with a younger player, then Lackey will likely shift to receiver or fullback, two positions he played with success last year.

If it's not Lackey, then Tri said in the season-ending interview that junior Bryson Daggett would be next in line. Daggett brings toughness and experience at the position. He played well in running the scout team and for the JV throughout last season.

Sophomore Jake Nelson is very talented, and was called up to the Varsity from Cavelero at the end of last season. He suited up and functioned as the number two QB in practice when Daggett was hurt and Lackey was filling in a FB. He definitely has the arm, but does he have the work ethic and mental makeup? That's the question on the minds of the coaching staff.

Junior Sage Richardson hurt his non-throwing shoulder and didn't play much, but the transfer from Archbishop Murphy may make some waves should he be able to put on a little weight.

It's also not out of the question that Coach Tri might switch in a younger player from another position to groom for QB. If Lackey were to transfer, Tri might ask junior FB Duke Dolphin to get under center - he's played QB before.

Fullback:

FB1 Duke Dolphin 2. Brennan Frost/Kevin Brown /J.T. Cox 3. Chameron Lackey?

Junior Duke Dolphin had a great sophomore campaign, rushing for 266 yards (over six yards per carry) and four touchdowns while backing up Bo Dickinson. Barring injury or position change, it looks like the Vikes are set at FB for two more seasons - what a luxury.

Senior Brennan Frost only had a couple carries in game action, usually coming out of the slot position, but he opened the coaching staff's eyes with his work on the practice field. He started coming on strong the week before the Monroe game, during which he imitated Monroe All-Wesco RB Austin Bray for the scout team. Frost, already known for his speed, showed a knack for making defenders miss and a willingness to hit the hole hard. Frost also practiced with the Varsity backs when Dickinson and Dolphin were injured. If Frost isn't a candidate for the backfield, he will certainly be used in the passing game.

Senior Kevin Brown was known for his punishing hits in the kick game. In fact, he hits returners so hard that he gave himself a concussion that took him out of action. Brown had several varsity carries early in the season, and depending on how he does in camp and Spring ball, he could emerge as a candidate to get significant carries.

Junior J.T. Cox impressed with the sophomore team, showing good feet to go with 230+ pounds of beef. If the Vikes need a short yardage back a la Dylan Youngblood, Cox could be the guy next year.
If Chameron Lackey is not the starting QB, he could well be a factor at the FB position. He played extremely well when covering for the injured Dickinson and Dolphin last season.
Up Next: Receivers, tight end and return specialists.