Discover more from The Journal 425
411 for the 425 | Reader-supported local journalism with perspective, edge & authenticity. | Your home for Lake Stevens Vikings football. | Privacy: J425 will never share or sell your data.
Over 2,000 subscribers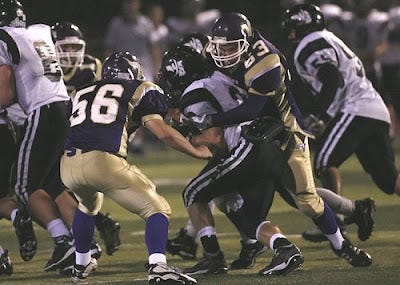 Alex Moon (56) and Jason Mendel (63) figure to be important cogs in the 2009 Viking defense. Rob Carlson/Sportsmedianorthwest.com

Part four in our continuing look at the 2009 Vikings....

Thanks to the players (Sunshine, Lackey, Reside) who have chimed in via the comments section. Posts are going to be few and far between this time of year as I am working 12 hours a day, seven days a week for the State Senate in Olympia.

That said, I am already excited for Spring ball, and I know the players, coaches and fans are as well. On a personal note, I am sorry to report that I was the victim of a robbery today and lost two laptops and a portable storage drive via a home break-in. I lost all of my archived football pics and stories, so bear with me if the photo content is a little dry for a while. The good news is I still have my Flip Mino, so we're still set for video coverage.

Anyway, without further ado, let's take a look at the projected depth chart for the defensive line and linebackers.

Defensive Line

DE Aaron Britton Ross Jones

Aaron Britton, a 6'7 junior, showed flashes of brilliance in increasing varsity action last season. Spelling Eric Huswick, Britton showed strength that belied his rail-thin frame, and a knack for rushing the passer. Britton's natural athleticism (see him play basketball...) and increasing physical maturity make him a legit All Conference threat for two seasons. Senior Ross Jones is also an excellent multi-sport athlete and could easily start at any number of d-line or linebacking positions as well.

NT Kalena Richardson Jordan Eckstrom Kody Dinh
The 6'0, 240 senior Archbishop Murphy transfer Kalena Richardson comes from a lineage of college football stock, and he has the physical tools and demeanor to dominate on both sides of the ball. Jordan Eckstrom is a returning starter on offense and is totally capable of starting on defense as well, particulariy if Coach Joe Cronin decides to go with a four man front. Our guess here is that Richardson's strength will allow Croning to employ a two-gap nosetackle approach necessary for running the 3-4.

DE Jesse Porter Ross Jones

Senior Jesse Porter joined the team four games into the season and was starting during the playoff run on both sides of the ball. Ox-strong and solid on his feet, Porter is an all league threat. Ross Jones backs up here as well.

One wild card for the d-line: several players have mentioned the possible return of wrestling stud Justin Grow. Grow, who wrestles at 189 pounds, would likely suit up as a fast and strong 215-pound DE. He apparently impressed some Vikings in limited action during his sophomore year, before sitting out last year.

Linebackers

OLB Chase Crowley Alex Moon/Brandon Belcher

Senior Chase Crowley is likely to be a captain after a great 2008 that featured 51 tackles and four sacks. The only question: will he move inside? Alex Moon has got a shot to make a real impact, and Brandon Belcher waits in the wings.

ILB Jason Mendel JT Cox/Bryson Daggett

Senior Jason Mendel started the quasi-playoff game against Snohomish - valuable big game experience that should allow the physically-gifted player to excel in his final campaign. Two big hitting juniors will battle for the spot as well: the 240-pound J.T. Cox and the Paxton Paynter-clone Bryson Daggett.

ILB Kevin Brown JT Cox/Bryson Daggett

The hard-hitting headhunter Kevin Brown was always good for a few, uh, "holy shoots" during special teams film review. Brown was known for fearlessly blowing up wedges. As a senior, he will be called on to plug holes at the line of scrimmage a la Jake Huddle. Cox and Daggett could fight for time here as well.

OLB Duke Dolphin Alex Moon/Brandon Belcher

Where does junior Duke Dolphin show up on defense? Will it be at safety, at outside backer, or at inside? Where ever it is, he will make an impact and bring top-notch athleticism and decision making to the table. Alex Moon and Brandon Belcher are in the mix here as well.

As always, I apologize for any oversights and I encourage reader response.

Up Next: Secondary and specialists

Previously: 1. Quarterback and running backs, 2. receivers and tight end, 3. offensive line.