Discover more from The Journal 425
411 for the 425 | Reader-supported local journalism with perspective, edge & authenticity. | Your home for Lake Stevens Vikings football. | Privacy: J425 will never share or sell your data.
Over 2,000 subscribers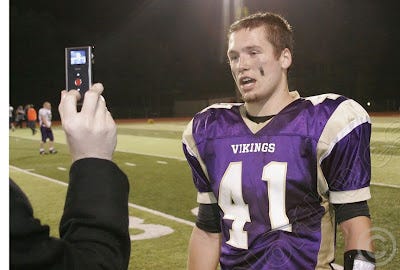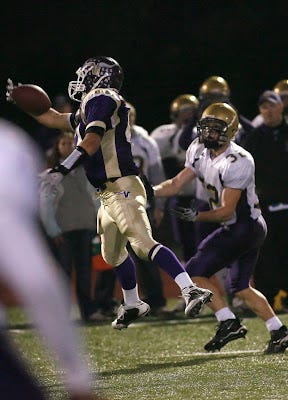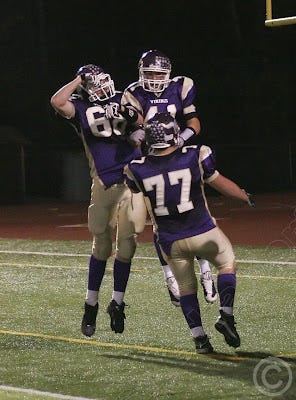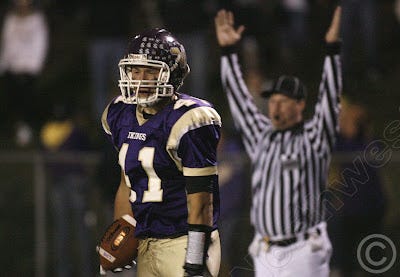 Photos courtesy of Rob Carlson/Sportsmedianorthwest

There's so many great choices in this category, but it's hard to ignore the exploits of one individual in particular. To go from never catching a pass in high school to setting the all-time single season touchdown reception mark and surpassing the previous reception record while ranking among the top five in the state in both TD's and receptions is quite a transformation.

With that in mind, the Purple and Gold Pigskin Most Improved Viking of 2008 is WR/LB Trevor Riecks.

Last year, Riecks played sparingly on offense as a fullback in the Vikes' I formation attack. He carried the ball three times for a total of six yards, and had no passes thrown his direction.

On defense, Riecks was a factor, collecting 48 tackles, good for 8th on the team.

Over the offseason, Coach Tom Tri approached Riecks and told him of his idea to switch to a no-huddle spread offense. This offense would require more receivers, and Tri needed a dependable player to plug into the slot position. This player would be counted on to run rugged routes over the middle, to block, and to be a sure-handed option for QB Nick Baker.

Riecks became all that and more. It turns out that Riecks possesses and incredible set of hands. He has the ability to snag the ball in traffic, to retain possession while being hit, and to reel in the deep ball over the shoulder. Usually, these are learned traits, but for Riecks, they came naturally. In fact, I can only recall one drop all season from Riecks, which is simply remarkable. How many drops do you see from Seahawks' receivers every week?

On defense, Riecks improved his tackle total to 62, while also recording three sacks and two interceptions (including a game-changing one-handed snare against Oak Harbor).

Senior Trevor Riecks #41 Season Stats
Offense: 55 rec. 724 yards, 13.2 avg, 11 TD, 17 carries for 74 yards, 4.4 avg, 1/2 passing for 27 yards.
Defense: 62 tackles, 3 sacks, 2 INT.





Most Improved Runner Up: S/RB/QB Chameron Lackey
Honorable Mention: Ryan Mielke, Jake Huddle, Colton Tupen, Zach Teuber, Nick Baker, JJ McCarthy.